The Nio share price forecast has assumed a bullish dimension following Wednesday's 5.99% push that has sent the price activity to the upper border of the falling wedge pattern. This pattern has bullish significance, hence the preponderance of Nio stock price forecasts to the upside.
Nio resumed production of its electric vehicles just a few days after announcing it would halt production due to the strict lockdowns in Shanghai and other parts of China. The company recently celebrated the production of its 200,000th electric vehicle and has announced deals to let customers enrolled in battery swaps opt-out and buy their batteries themselves. The car delivery milestone, achieved in less than four years, was composed of an entire fleet of the NIO ET7 flagship sedan flagship vehicle.
The company plans to accelerate the production of its EVs and has embarked on a massive expansion of its battery charging and production facilities. However, the headwinds the company has to contend with would be the global shortage of semiconductors. The Nio stock price is up 4.77% on the day.
Nio Stock Price Forecast
The falling wedge on the 4-hour chart points to bullish Nio stock price forecasts. The upper border of the wedge and the 17.87 resistance (10 March high) must give way for the bullish forecast to be actualised. The measured move from the wedge's break is expected to peak at the 22.26 resistance barrier (2/31 March highs).
This breakout move must uncap the resistance barrier at 19.48 (21 March low and 20 April high) if the measured move's completion is achieved. Additional obstacles at 24.00 (psychological barrier and 5 April high) and 24.96 (1 February 2022 high) only become available if the advance move tops the measured move's completion point.
On the flip side, the bears would be hoping for rejection at 17.87, followed by a downward move that breaks down the 15.88 support and the wedge's lower border. This scenario means the wedge would be invalidated, with 14.31 (14 March 2022 lows) and 11.83 (31 July 2020 low) serving as additional southbound targets. Finally, 10.91 rounds off the potential downside pivots, being the site of a previous low on 24 July 2020.
Nio: 4-Hour Chart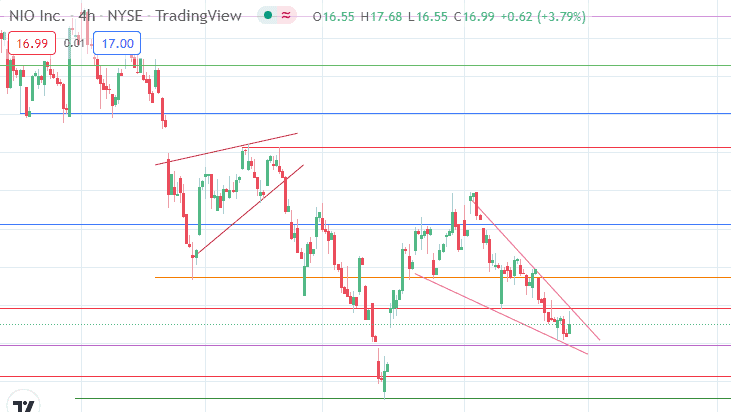 Follow Eno on Twitter.