The Nio share price is up in premarket trading on a day that the company will report its earnings for the 3rd quarter after market hours.
The Nio share price is up % after overcoming Monday's slight retreat. The company is to report earnings for its September 2021 fiscal quarter. Nio made a loss of 14 cents per share in the same period in 2020. Analysts predict that the company will cut this figure in half with a loss per share of 7 cents. Projections are for revenue to climb by more than 100% to top $1.4billion.
Also of interest to investors on this day is the delivery numbers for the previous month. Traders want to see if the company overcame the disappointing delivery figures for October. The company's guidance for the 4th quarter will also be in the spotlight.
Nio Share Price Outlook
The stock continues to trade within an expanding triangle pattern. However, this pattern is now under threat as the price advance has violated the resistance at 43.14, and a break of the triangle's upper border would negate the expected outcome for this pattern. This scenario would open the door for the bulls to push towards the 46.07 resistance. Above this level, 47.58 and 50.00 could become available if the advance continues.
On the flip side, a retreat from the current resistance levels would allow the bears to push towards the contrasting border of the triangle. This move would need to take out support levels at 41.31 and 39.33 to be actualized. A breakdown of the triangle opens the door towards 35.91 and 34.64. The pattern could also aim to complete a measured move at 32.50.
Nio: Daily Chart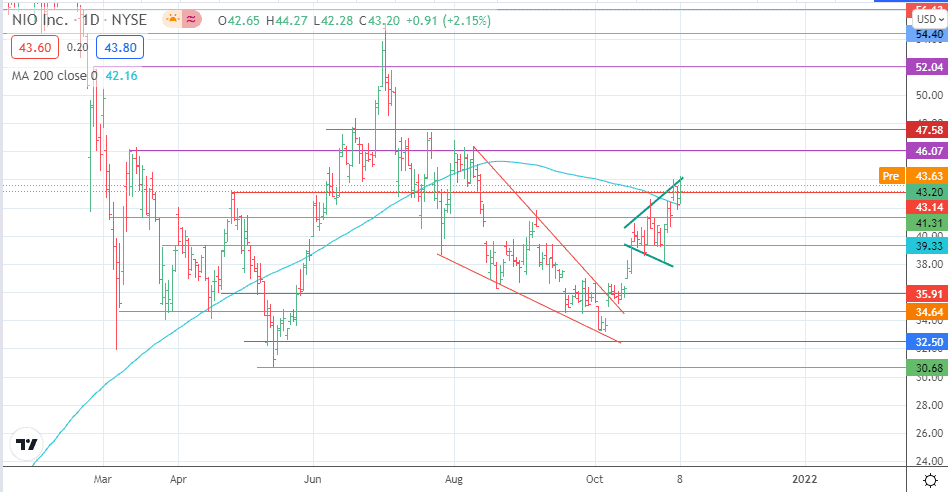 Follow Eno on Twitter.