The Nio share price is up 0.16% after experiencing a bounce this Tuesday. This move follows four days of declining prices as investors extended the selloff, which followed the resolution of the rounded top in early December.
Monday's broad-based selloff in tech stocks in response to global geopolitical tensions and fears of interest rate hikes propelled additional selling, driving down the Nio share price. Higher interest rates make it more expensive to finance property acquisition, including electric vehicles. This explains why the stock was down yesterday along with the rest of the US market.
However, the planned release of three EV models in 2022 and the advancement of its driver-assisted models means the company is preparing for better times ahead. The company's full-year results are due next month.
Nio Share Price Outlook
The resolution of the descending triangle on the daily chart found support at 23.83. The bounce on this support by the active daily candle appears set to hit the 25.45 resistance. If there is rejection at this area followed by a pullback, 23.83 could face a retest. If this support gives way, 22.26 becomes the next southbound target in line.
On the flip side, attainment of 28.04 follows the uncapping of the 25.45 resistance. 29.25 and 32.50 become the new targets of note if 28.04 gives way to bullish momentum. 
Nio: Daily Chart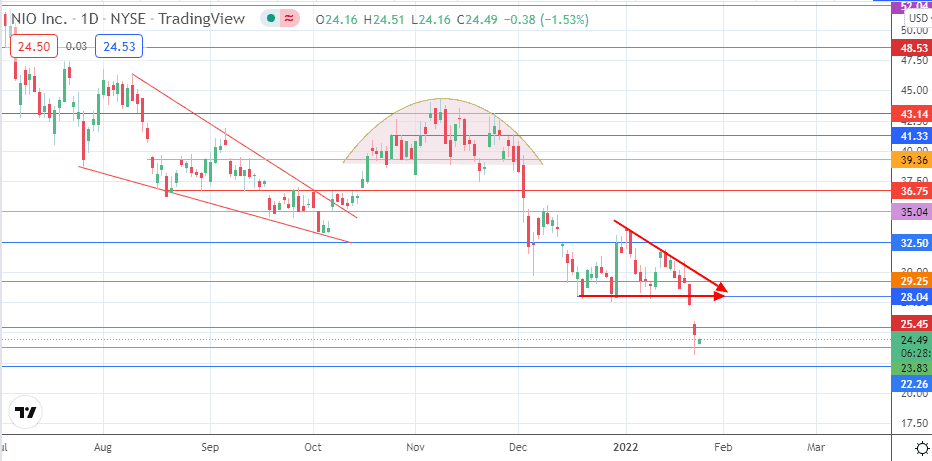 Follow Eno on Twitter.