Bearish Netflix stock price forecasts have reappeared on the scene after the bears confirmed the megaphone top pattern on the daily chart. A breakdown of the pattern's lower border on Wednesday was followed by an attempted return move on Thursday, which was rejected at the broken border. Friday's 1.08% decline has set the tone for a move to the south, keeping with the expanding triangle/megaphone top's expectations.
Thirty-six institutional analysts retain a buy recommendation on the stock, with a 12-month price target of $502.50. This provides a potential for 40.4% upside from current price levels. The recommendation remains unchanged from March when it first appeared. However, it seems that things may worsen before they get better for the stock. Netflix has now lost all gains made since 17 March. The losses could broaden if the bears can degrade a key support level at 354.13.
Netflix Stock Price Forecast
The completion of the megaphone top pattern on the daily chart points to a further slide. A breakdown of the support at 366.87 has confirmed this outlook and points to a push towards 340.48 in pursuit of completion of the measured move. This move would require the bears to degrade the support at 354.13 (24 February and 17 March lows). A further decline below the measured move's completion point shifts the price activity towards 331.16 (14 March low) or 321.59.
On the flip side, a bounce off the current support at 366.87 sends the stock towards 374.57. The bulls need to uncap this resistance to make 395.29 a new target. This target is the limiting barrier between the bulls and a further recovery that invalidates the pattern. If indeed the bulls take out the 395.29 resistance, 412.51 becomes available, having served as a site for previous highs on 4 February and 9 February. Other targets to the north include 431.43 and 445.06, but these are presently out of reach of the bulls.
Netflix: Daily Chart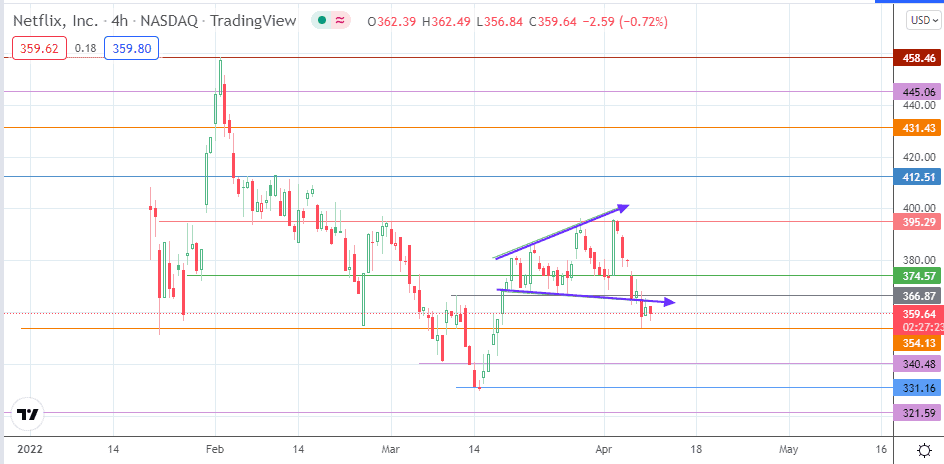 Follow Eno on Twitter.