The NEAR/USDT pair is coming off a 7-day losing streak, capped by a day of heavy selling on Tuesday as the pair tanked by 11.14%. This Wednesday, an intraday bounce appears to have checkmated bearish NEAR Protocol price predictions, at least for now. Wednesday's 3.18% gain is nothing compared to the previous day's losses, but it gives some hope that sellers may be taking some profits and may not intend to push the market lower soon.
The fundamental trigger for the hefty selloff seen in the NEAR Protocol seems to be the generalised weak sentiment in the crypto market. Unfortunately, the launch of the NEAR Protocol's stablecoin, known as USN, on the testnet did not sway the market's negative sentiment and did not stop the NEAR token's selloff.
It is, therefore, safe to say that the NEAR Protocol price prediction will follow the general market sentiment in the short term and not fundamentals inherent to the token itself. As long as sentiment remains negative, selling on rallies may be the way to go.
NEAR Protocol Price Prediction
The intraday bounce on the 12.599 support has raised the hopes of a possible approach towards 13.480 to break that price barrier. If the bulls succeed in this quest, the 14.672 resistance (7/18 April lows) becomes the new upside target. Above this level, we see additional barriers at the 24 April 2022 high (15.578) before the 17.644 resistance (4 January and 5 April highs) enters the picture as another northbound target.
On the flip side, a decline below 12.599 (23 January high and 28 March low) is required before the next support at 10.992 (16 December 2021 high, 18 February 2022 high, and 23 March 2022 low) becomes available. Additional southbound targets reside at 9.957 (27 January and 16 March lows) and at 8.361 (19 December 2021 and 28 February 2022 lows). 6.354 (4 December 2021 low) only becomes a target if the decline is steep.
NEAR/USDT: Daily Chart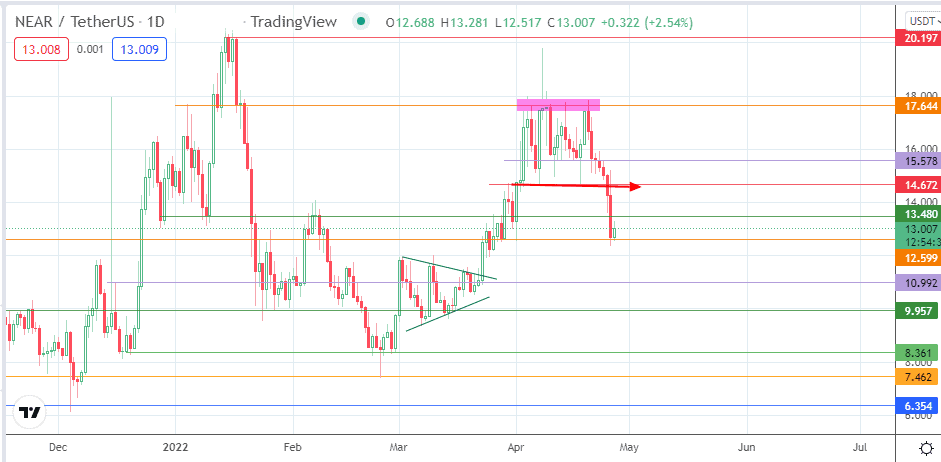 Follow Eno on Twitter.