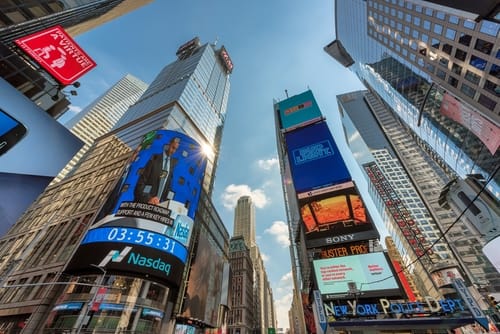 Indices
Nasdaq 100 Bounces Back, But Needs to Break 13350 for Recovery
The Nasdaq 100 index has staged a huge rebound, after hitting correction levels yesterday. The Nasdaq 100 index bounced back after tech stocks gained superbly on the day, with the index currently notching up 536.39 points or 4.36% in gains as of the time of writing.
All major tech stocks are up. Facebook is up 4.76% and so is Tesla (19.77%), Amazon (1.64%), Nvidia (7.72%) and Advanced Micro Devices (5.99%).
The recovery in the Nasdaq 100 and other US markets follows the cooling of US long-term bond yields, with the US Treasury 10-year bond yield losing 3.81% on the day.
Technical Outlook for Nasdaq 100
The rebound in the Nasdaq 100 index delays the completion of the potential 1-2-3-4-5 pattern shown on the charts. This rebound has met resistance at 12769.3. Rejection at this point, followed by a pullback, allows the bears to push back towards 12489.7. This support has to give way for the 5th wave to plough on towards 12163.4, at which point the trough of the 3rd wave would have been exceeded. Extension towards the 12000 psychological support has to be watched closely. A breakdown there continues the 5th wave, but a bounce could set off the commencement of the a-b-c corrective
wave pattern.
On the flip side, an extension of the rebound could occur if the 12769.3 resistance is breached by a 3% penetration close or a double successive candle penetration close above this level. This opens the door towards 12973.9, with 13135.5 serving as an additional resistance.
Don't miss a beat! Follow us on Telegram and Twitter.
Nasdaq 100; Daily Chart
More content