Metro Bank share price popped to the highest level since November last year despite some bad news in the company. MTRO stock has surged by more than 67% from the lowest level this year, making it the best-performing UK bank stock. It has outperformed other blue-chip banks like Lloyds, HSBC, and Barclays.
Latest Metro Bank news
The most recent Metro Bank news came on Monday this week when the Financial Conduct Authority (FCA) announced major fines for the company. It ordered the firm to pay 10 million pounds for misleading investors in one of the biggest accounting scandals. In 2019, the Metro Bank share price collapsed by more than 50% in a single day when the allegations emerged.
In a statement, the FCA also ordered the company's former chief executive and chief financial officer to pay 223k and 134k pounds, respectively. Therefore, the stock jumped as the bank ended one of the darkest chapters in its history. Historically, stocks tend to rise after a major investigation ends. In a statement, the FCA said:
"Metro Bank was aware at the time that this figure was wrong and failed to qualify it or explain in the October announcement that it was subject to an ongoing review and would require a substantial correction."
Bank of England decision next
The next key catalyst for the Metro Bank share price will be the upcoming interest rate decision by the Bank of England (BoE). Economists expect that the bank will hike interest rates by 0.50% in its meeting in a bid to lower the soaring inflation. The most recent data showed that UK's inflation soared to more than 10% in November.
Metro Bank does well in periods of high-interest rates because of its business model. Unlike Barclays, it does not have exposure to investment banking, which has recoiled this year. Instead, the bank provides consumer banking solutions like savings, mortgages, and business banking. These divisions will benefit as interest rates rises.
Metro Bank share price forecast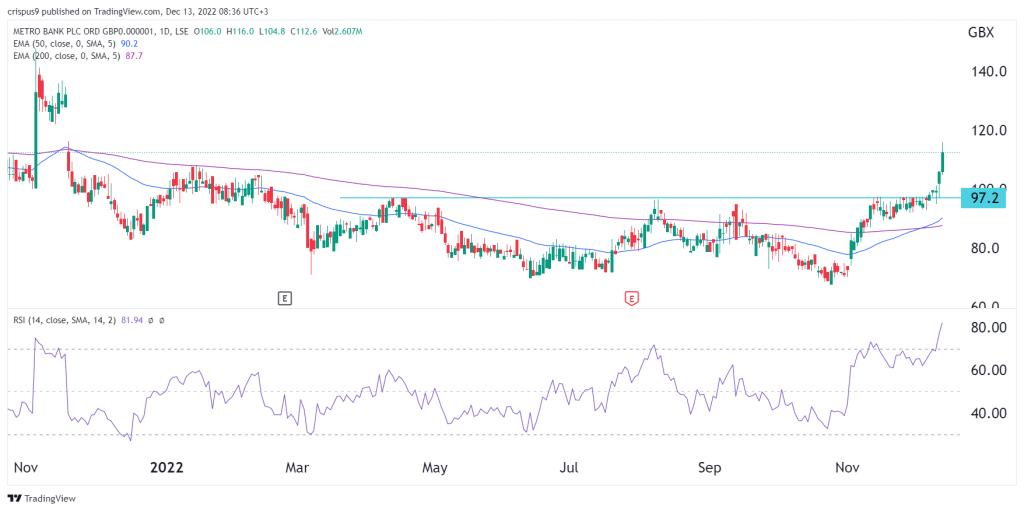 The daily chart shows that the Metro share price has been in a strong bullish trend in the past few days. In this period, the stock has managed to move above the important resistance level at 97.2p, which was the highest level on August 10. Most importantly, it has formed a golden cross pattern as the 50-day and 200-day moving averages have made a bullish crossover pattern.
Therefore, the stock will likely continue rising as buyers target the next key resistance level at 130p. A drop below the support level at 100p will invalidate the bullish view.