The MATIC price has staged a strong recovery and is back in familiar territory, approaching the horizontal resistance at $1.740. Polygon (MATIC/USD) is currently trading at $1.672, +6.4% in the last 24-hours and +54% since the 12th of October. The recent performance has lifted Polygon's market cap back to $11.47 billion, ranking it as the 21st most valuable cryptocurrency, ahead of Stellar Lumens (XLM/USD).
Polygon, the layer-2 scaling solution for Ethereum (ETH/USD), has returned to form of late. In the last two weeks, the MATIC token has climbed from the support of the 200-day moving average and is working towards another test of significant resistance. Yesterday, Ethereum closed above $4,200 for the first time and now looks set to make a new high in the coming sessions, which could provide a catalyst to slingshot the MATIC price above $2.00 for the first time since May. However, despite growing bullish sentiment, the $1.7400 level has done an excellent job of stifling Polygon in the past. Therefore, if MATIC convincingly clears the barrier, an explosive move could follow.
Polygon Price Forecast
The daily chart shows that MATIC is approaching the significant $1.740 resistance level. If Polygon closes above the horizontal trendline, an extension to the 26th of May high of $2.500 looks likely. Furthermore, if Ethereum prints a new all-time high and gains traction towards $5,000, the MATIC price could target its record of $2.899. Despite the optimistic view, until the MATIC price hurdles resistance, it's vulnerable to a reversal.
If Polygon pulls back from here, the 50, 100, and 200-DMA's between $1.329-$1.200 provide considerable support. As long as MATIC sustains the $1.200 level, the bull market is intact. On that basis, I am bullish with a $2.500 price target, but a drop below $1.200 invalidates this thesis.
MATIC Price Chart (Daily)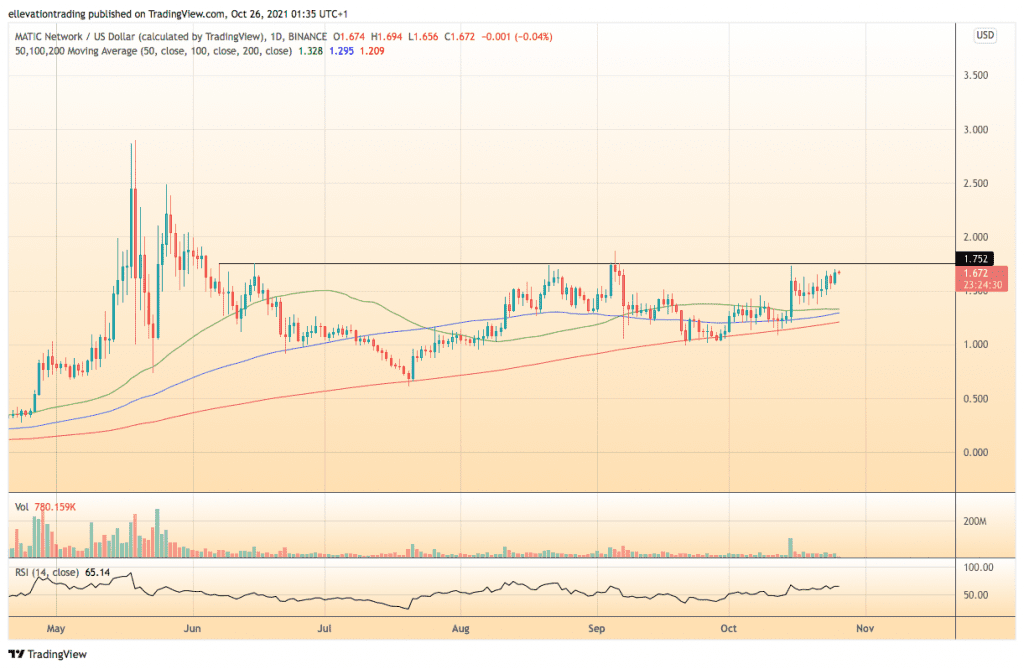 For more market insights, follow Elliott on Twitter.