Negative sentiment on travel stocks this Wednesday is plaguing the IAG share price. It is currently down by 5.23% and looks set for a second straight day of losses.
A lack of clarity on the exact date of the reopening of the U.S. airspace to U.K. travellers is affecting investor sentiment on IAG. IAG had seen an increase in its transatlantic bookings after September's reopening announcement. However, with no direction on the reopening date, there are concerns that this may take a while to resolve.
EasyJet's earnings forecasts have also dampened the mood on U.K. travel stocks. Also souring sentiment was Wednesday's malfunction of the NHS COVID Pass website and app, which caused hundreds of travellers to miss their flights.
IAG Share Price Outlook
The head and shoulders pattern is now complete with the break of the 177.46 neckline. This scenario has opened the door towards the 167.54 support, where the measured move is expected to come to rest. A further decline sends the IAG share price action to the 156.40 and 149.72 support levels.
On the flip side, recovery of the uptrend on the IAG share price follows a break of the 194.94 resistance level. To achieve this, a bounce on the 167.54 support or lower has to clear the barriers at 177.46 and 187.24. The 10 June 2021 high at 205.32 will be the first target once the 194.94 resistance is broken.
IAG Share Price: Daily Chart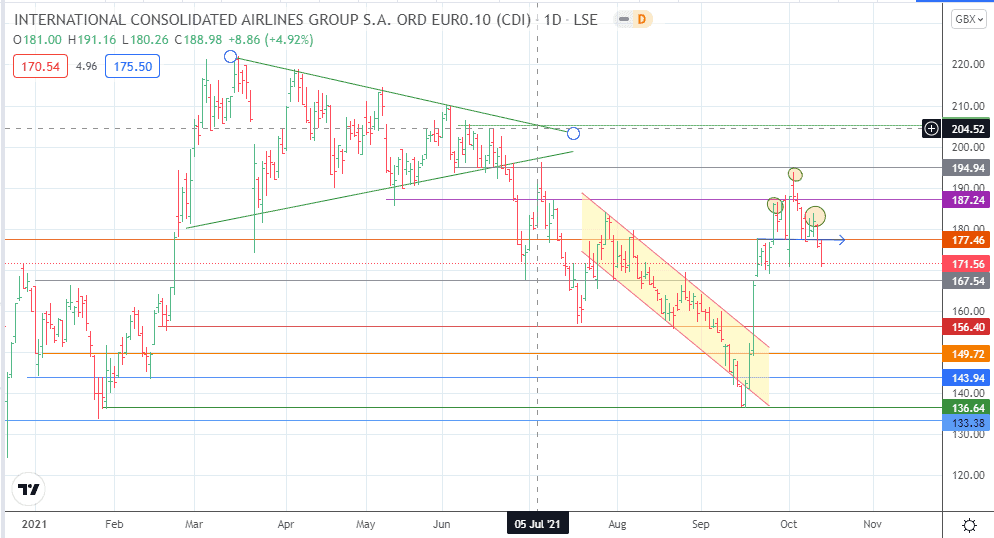 Follow Eno on Twitter.