Lucid stock has started this week with its foot pressed down hard on the gas pedal, surging to a 9-month high on Tuesday. Lucid Group Inc (NASDAQ: LCID) reached an intra-day high of $47.87 on Tuesday before ending the session at $45.92 (+9.85%). The impressive performance follows a strong showing in October, which Lifted LCID almost 200% since September.
Several encouraging developments are driving the recent gains. Firstly, towards the end of last month, the EV-maker started delivering its premium Air Dream Sedan models to customers. Additionally, the Air Dream has a greater range than Tesla's longest-range vehicle. Furthermore, a recently opened showroom and several positive reviews have revived interest in Lucid Stock.
LCID Price Analysis
The daily chart shows Lucid stock cleared trendline resistance at the end of last month. As a result, trading volume surged as newly-minted longs forced shorts to cover their positions. However, the price is approaching a key area of resistance.
The psychological $50 mark has a considerable number of call options contracts expiring on the 17th, which could dictate the action over the next week. If the price continues to gravitate towards the $50 strike price, shorts could be forced to buy Lucid stock to hedge their exposure, causing a gamma-driven melt-up towards the all-time high of $64.86.
However, the longer the price stays below $50 as we approach expiry, the odds of dealer hedges reduce. Therefore, the bulls must work fast to force an exaggerated upside extension. The chance of a gamma-squeeze is relatively high in the near term, and for that reason, I believe the price will go higher in the immediate future. However, a close below Mondays high of $41.92 suggests a reversal, invalidating the bullish call.
Lucid Stock Price Chart (Daily)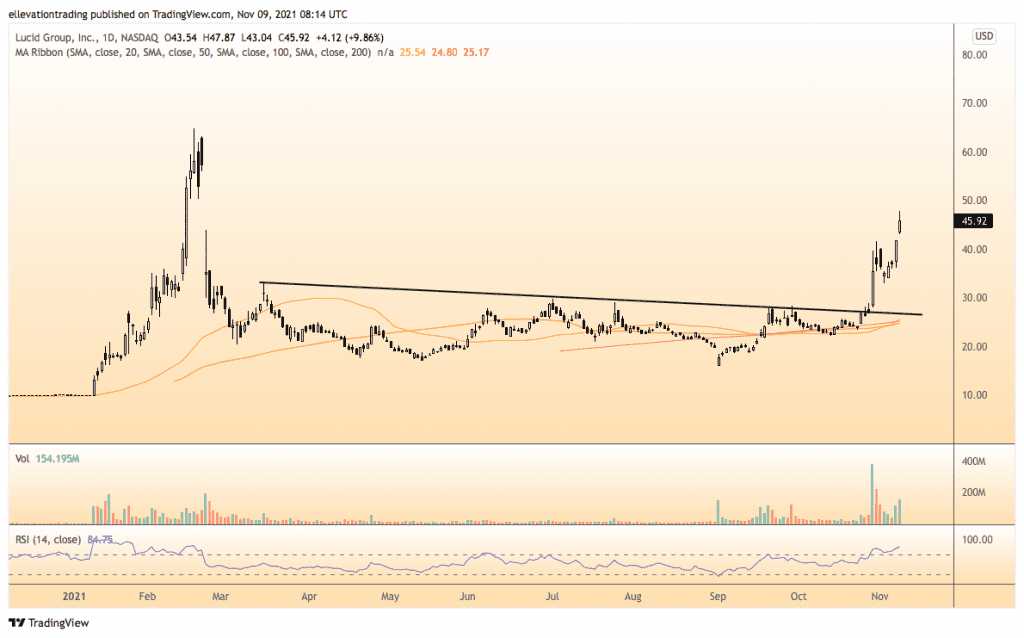 For more market insights, follow Elliott on Twitter.