The Barclays share price has had a modestly bullish open, as the stock seeks to erase the losses of the previous three sessions. Yesterday's slump was triggered by a scathing report from the UK Competition and Markets Authority, which found that the bank had thirteen open banking breaches. However, the regulator says it will take no further as the bank had taken steps to remedy the situation.
The lack of further punishment by the UK Competition and Markets Authority against Barclays was what stalled a continued selloff, leading to an influx of new demand looking to profit from the recent slump. Barclays bank has issued a notice of its Annual General Meeting, to be held on 22 March (today) where it intends to hold a vote among shareholders on its climate change strategy in the future.
The bank had already indicated that the ongoing Russia-Ukraine conflict would hinder progress on climate goals. The lack of additional fundamental triggers on the day has limited volatility on the Barclays share price action. The stock is up 1.46% as of writing, having shed some of its earlier gains of the day.
Barclays Share Price Outlook
Tuesday's uptick has preserved the sanctity of the 170.34 support level following Monday's downside violation. The bulls need to impart more bullish momentum to push the bounce towards the 177.34 resistance (30 July 2021/17 March 2022 highs). 186.14 and 190.34 are additional resistance barriers that the bulls will need to surmount if the push to the 202.70 price resistance is to be achieved.
On the flip side, a lack of bullish momentum puts the 170.34 support in danger. If the bulls fail to defend this pivot, the door towards the 161.62 support level is opened. Additional support levels lie at 156.92 (20 July 2021 and 4 March 2022 lows) and 147.48, but these will only become viable if the bears initiate a steep decline from 161.62.
Barclays: Daily Chart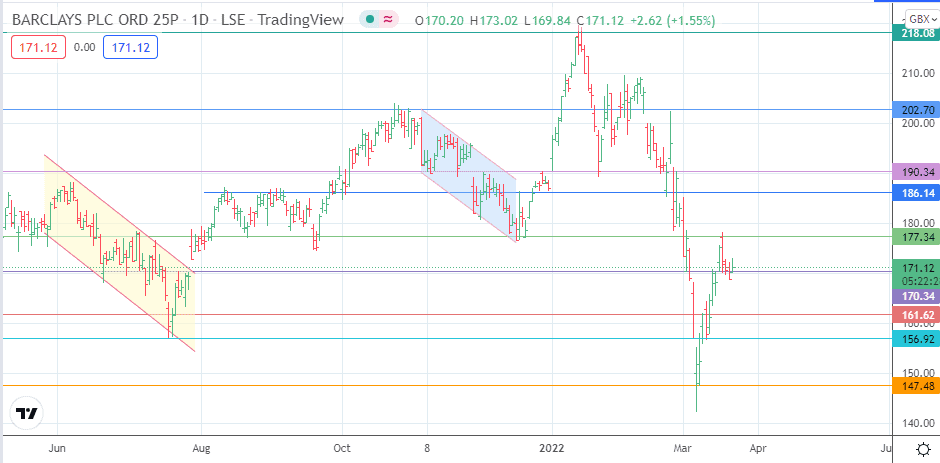 Follow Eno on Twitter.