The Lloyds share price is approaching 22-month highs this Monday after notching up gains of 0.26% on the day.
The upside moves seen in the stock follow a positive outlook provided by investment bank Barclays on Friday. Barclays maintained that Lloyds stock still offered upside, as rising expectations from the market would overcome any higher cost guidance provided by the upcoming strategy day with Lloyds CEO Charlie Nunn.
Lloyds share price and other UK bank stocks have benefitted from recent hawkish positioning of central banks, with the Bank of England's December 2021 rate hike seen as a primer for these moves.
Lloyds Share Price Outlook
The Lloyds share price daily candle has broken above the 52.09 resistance (neckline of completed head and shoulders pattern of September-October 2019. It is now attempting to close the gap of 24 February 2020, en route to the 55.20 resistance. A break above this level allows the pair to attain two-year highs at 58.57.
On the other hand, if bullish pressure wanes and 52.09 fails to hold back the bears, a move towards 50.51 appears likely. Below this level, additional support is seen at 47.95 and 44.99. The 42.01 support mark comes into the picture as a distant target to the south.
Lloyds: Daily Chart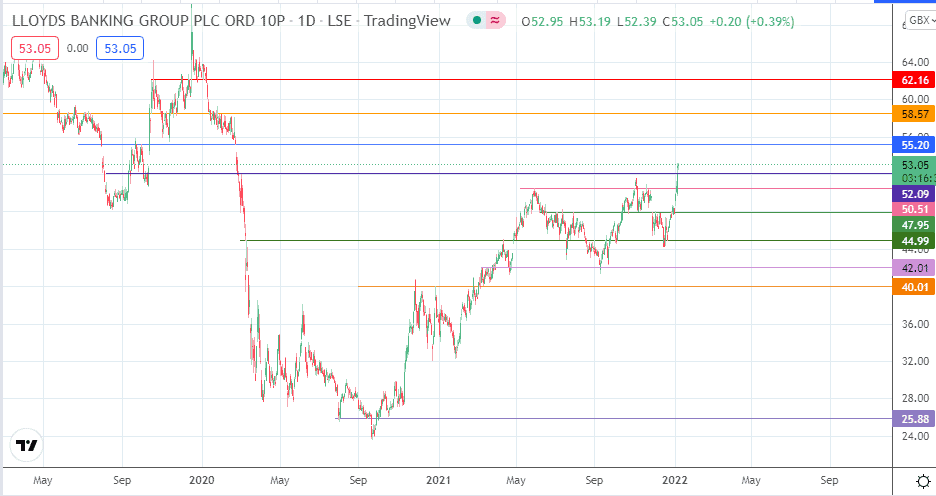 Follow Eno on Twitter.