This Monday, Lloyds share price declined after a leaked video recorded in an internal meeting became public knowledge.
In the said video obtained by Daily Mail on Sunday, a senior official at the bank warned about existing in-premises technology being "not fit for purpose". The technology referenced in the video powers a lot of the bank's data and services. The said official was also heard saying that the "age of our estate is a real concern," which seems to suggest concerns that its existing infrastructure could face challenges with modern cyber threats.
The report put the bank's stock on the back foot in Monday's trading. On Thursday, Lloyds share price had a stellar performance when the Bank of England's action to raise interest rates led to demand for bank stocks. Lloyds share price gained 4.63% on the day. However, the losses sustained on 
Friday and Monday have erased all the gains made. Lloyds share price is down 0.77% as of writing.
Lloyds Share Price Outlook
The decline in the Lloyds share price is testing support at 44.99. A breakdown of this level allows the 43.84 support line to come into the picture. 42.99 and 42.01 are additional pivots for the price action if the decline is more extensive.
On the other hand, a retest of the 46.61 resistance could be on the cards if the price bounces off the 44.99 support. Only when 46.61 gives way can 48.12 and 49.20 come into the mix as future barriers to the north. The 51.02 price mark and the 2nd November high at 51.58 appear too distant at the moment, which preserves the latter as the candidate for the 2021 high. 
Lloyds: Daily Chart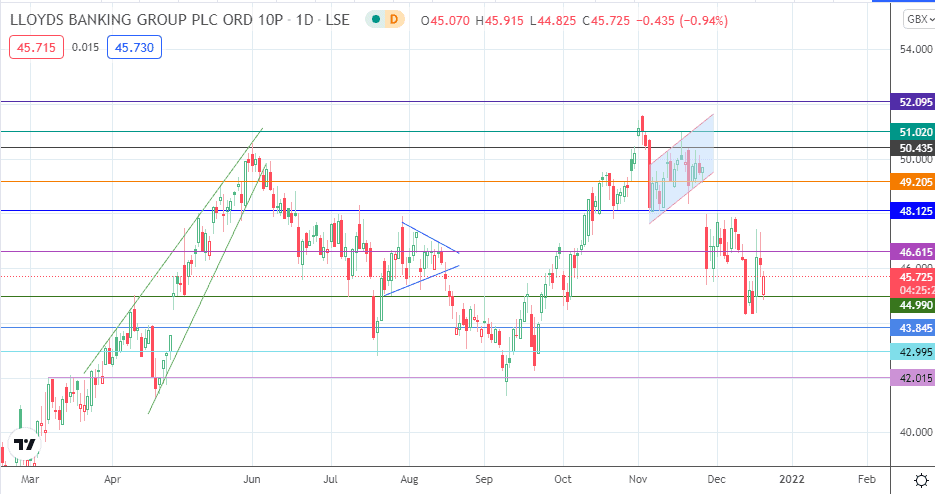 Follow Eno on Twitter.