Thursday's bearish action on the LTC/USD pair could enhance bearish Litecoin price predictions. This is because the latest rejection has played out yet another lower high, which needs a corresponding lower low below the 10 January low to continue the bearish move that started on 15 November.
After a two-day price pop, sellers stepped into the market again and forced back price action by 4.02%. However, this dip could also provide accumulation opportunities that may become profitable later in 2022, especially as the Litecoin Foundation signs new deals. The latest is the partnership signed between Litecoin Gaming and e-sports team Nefarious. Nefarious will compete in tournaments for 2022 using the Litecoin Gaming banner during its events. 
What is the Litecoin price prediction outlook in the near term?
Litecoin Price Prediction
The rejection of the price at the 142.57 resistance indicates that there is still not enough pressure to take the LTC/USD to the next resistance at 160.72. Therefore, the rejection at the descending trendline brings the prior support at 120.53 into focus. A decline below this level takes Litecoin to 7-month lows at 105.34. This leaves 95.25 as the remaining near-term potential target below this level.
On the flip side, a break above the 142.57 resistance moves the pair towards 160.72. A continuation of the advance takes the LTC/USD pair to 180.82. Above this level, 192.49 also serves as an additional target to the north.
LTC/USD: Daily Chart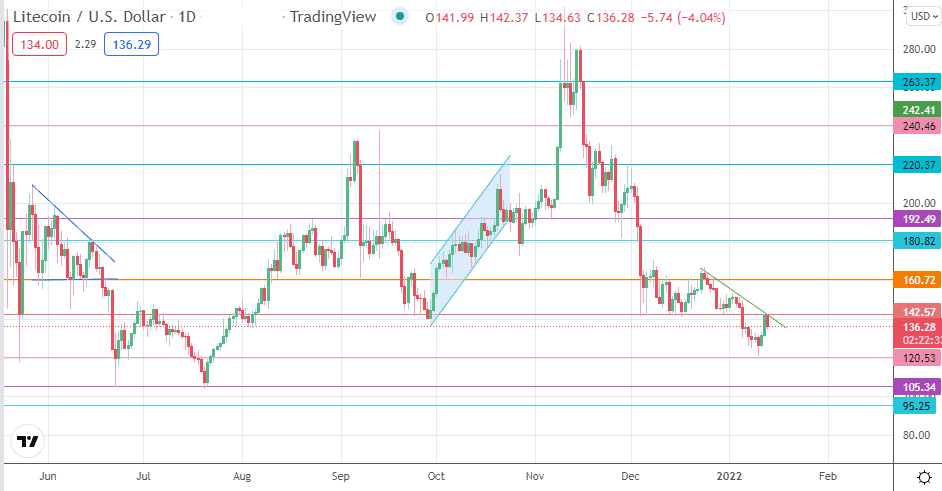 Follow Eno on Twitter.