The Legal and General share price has started the week on a negative note, on a day in which the UK stock markets are trading sharply lower. The weaker sentiment on the stock and the market, in general, are consequences of a selloff in Asia, as concerns over rapid and more aggressive rate hikes by the US Fed and slower global growth sour sentiment.
Banking and insurance stocks appear to be the worst hit in Monday's trading. The market's downbeat sentiment was enough to overwhelm any positive sentiments on the Legal and General share price after the firm agreed to a full-scheme buy-in for the Gordonstoun School Retirement Benefits Scheme for 6.6 million pounds.
This acquisition would enable Legal and General's investment management division access to more significant premiums to expand its investment horizon while providing long-term returns for pension payments. Legal and General has managed the scheme since 1999 and will now be its sole insurer under the buy-in provisions.
The Legal and General share price had jumped % in March after the company reported an 11% increase in annual operating profits to 2.26 billion pounds. This was driven by the performance of the investment management division of Legal and General. It provided welcome relief after an earnings dip in 2020 at the height of the COVID-19 pandemic. It paid a full-year dividend of 18.45 pence per share.
The Legal and General share price has since resumed a decline after topping out at the 280.6p resistance level. It currently trades 2.02% lower in Monday's trading session and presently occupies the 36th spot on the losers' chart of the FTSE 100 index.
Legal and General Share Price Outlook
Friday's breakdown of the 261.0 support with a penetration of more than 3% confirmed the breakdown of that pivot and paved the way for the downward move seen this Monday. This move is on course to target the 249.8 support (16 July 2021 and 9 March lows).
If this support gives way to additional bearish pressure, the price deterioration could push down to the 240.0 psychological support (14 December 2020 low). 227.5 (13 November 2020 and 7 March 2022 lows) could become the next southbound target if the bulls fail to defend 240.0
On the other hand, the bulls have to defend 249.8 successfully and initiate a bounce towards 261.0 if the recovery move is to hold water. 268.7 (2 March high) becomes the next target if the bulls uncap 261.0. Additional northbound targets at 275.0 and 280.6 (16 February and 23 March highs) will become available if the price transcends 261.0.
LGEN: Daily Chart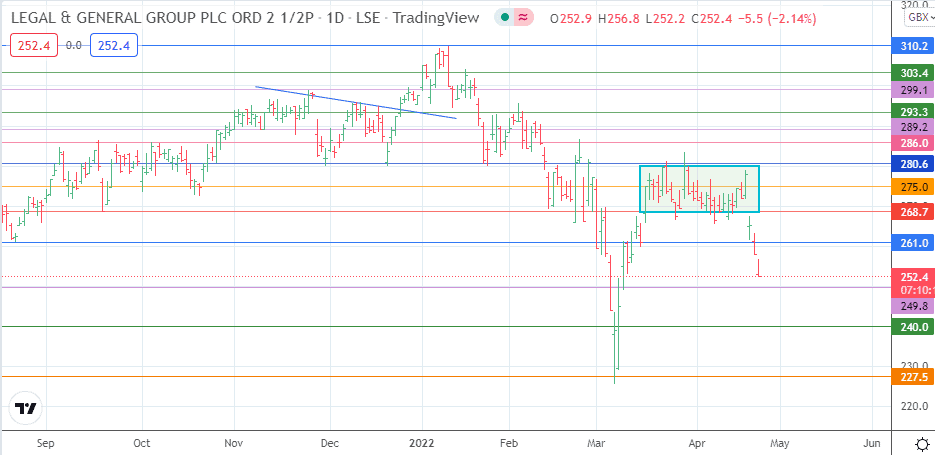 Follow Eno on Twitter.