Kaspa coin price failed to break above its August highs for the second time in two months and is currently priced 6.1% below the $0.053 level. The lack of buying pressure in the DAG-based cryptocurrency can partly be due to the rise of Bitcoin dominance to 50.75%, which is the highest level for BTC.D since August.
Bitcoin price remained stuck within the Monday ranges for the whole week. This resulted in sideways price action in most of the altcoins, including the KAS crypto. The digital asset is down 5.79% this week. On Friday, the Kaspa coin price remained green as Bitcoin tested its Monday lows for support.
Kaspa Developers Release Kaspium
Earlier in September, Kaspium was released, which is a cryptocurrency wallet released by the developers of the Kaspa Network. According to the cryptocurrency's website, the release of the wallet is "a commitment from the community and contributors of the Kaspa network" and hopes to provide a seamless and secure experience when it comes to managing the user's digital assets.
KAS Crypto Generates 1032% Returns In 2023
Kaspa coin appears to be very popular as the proof-of-work digital currency is ranked as the 44th largest cryptocurrency by market capitalization on Coingecko. This news is not much of a surprise since the KAS coin has shown a breathtaking 1032% yearly gain in 2023. According to CoinGecko, around $9.4 million worth of Kaspa crypto has been traded over the last 24 hours.
Kaspa Coin Price Forecast
Despite a 56% rally from September lows, the KAS/USD is struggling to break above the August high of 0.052. This level is very critical as the price has suffered multiple rejections in the past few weeks. Additionally, a head and shoulders pattern is also firming on the mid-term timeframe, which further contributes to the bearish outlook for the coin.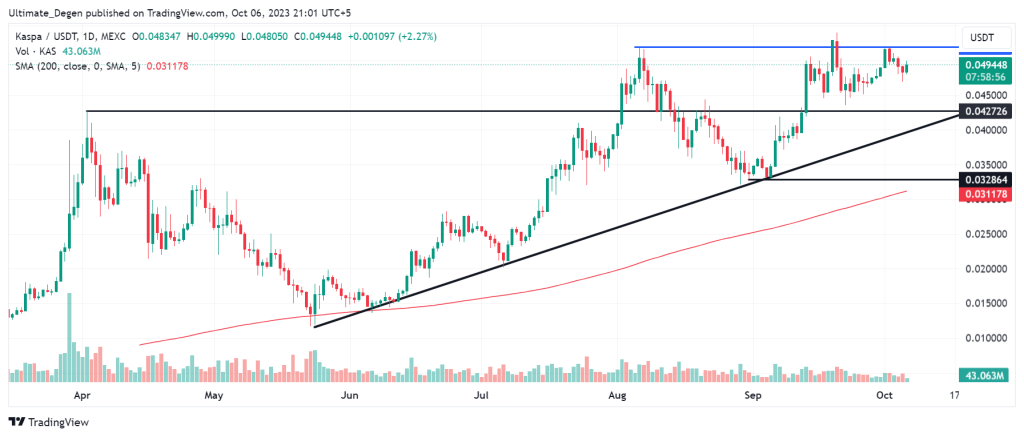 For the head and shoulders pattern to play out, the price must close below $0.0445. In this case, I expect the bears to target $0.0427, which was the April high. However, the Kaspa coin price prediction will turn very bullish if the price breaks above its all-time high level of $0.052 and gains strength.