The HSBC share price is hovering at the highest level since February 2020 as investors reflected on the company's strong earnings. The stock is trading at 540p in London, about 92% above the lowest level in September 2020. It outperformed other FTSE bank stocks like Lloyds and NatWest.
HSBC earnings review
HSBC has weathered the Evergrande crisis better than most analysts were expecting. On Tuesday, the company said that its pre-tax profit almost doubled to more than $2.7 billion. It attributed this strong performance to its strong performance in credit and lending.
HSBC full-year pre-tax profit rose to $18.9 billion while revenue for the final quarter of 2021 rose to $12 billion. The firm said that it had started seeing a positive impact on interest rates in a statement. In the past three months, the Bank of England has delivered three rate hikes to deal with the rising inflation. And analysts expect this trend to continue this year, considering that inflation has been rising sharply.
One of the most important announcements was on the HSBC dividend. The company unveiled a dividend of 18 cents a share and a $1 billion buyback. This is in addition to the $2 billion that it announced last year.
Is HSBC a good investment?
Judging by the results published on Tuesday there are indications that HSBC has turned the corner. It has returned to modest growth even in a tough period in its Chinese operations. As you recall, the company had some exposure to Evergrande and the housing market. And recently, data from China showed that home prices have been in a freefall as Beijing attempts to deleverage the economy. 
Still, there are some positives, analysts expect the HSBC share price to rise to above 570p in the coming months. Those at Credit Suisse and JP Morgan see the shares rising to over 575p. Further, the company has exited some of its most unprofitable markets like the US and France and is now doubling down on Asia. This trend will make it a more profitable bank as it aims for the fastest-growing region globally.
HSBC share price forecast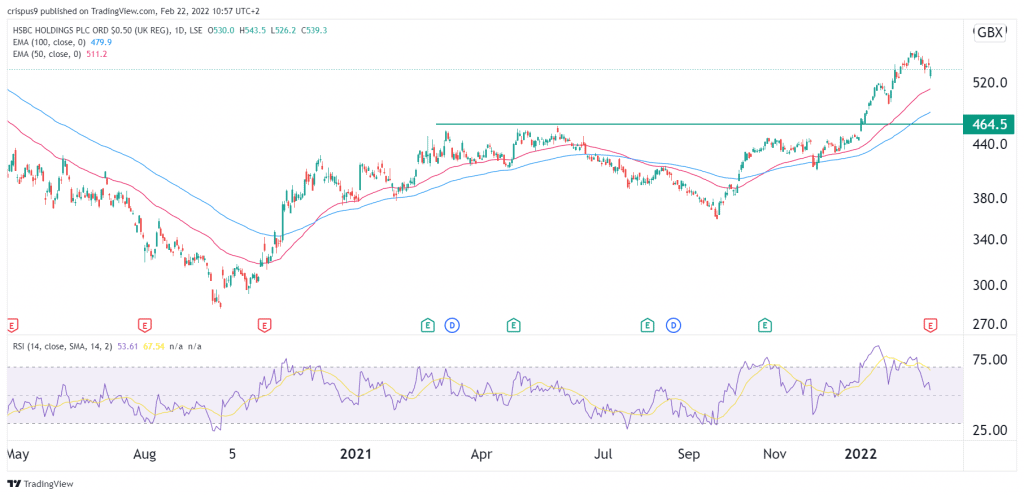 On the 1D chart, we see that the HSBC stock price has been in a major bullish trend in the past few months. The stock's rally accelerated when it managed to move above the key resistance level at 464p.
Now, it remains above the 100-day and 50-day moving averages while the Relative Strength Index has moved below the overbought level. Therefore, the recent weakness is understandable. In the coming days, I expect that the stock will drop and retest the support at 520p and then resume the bullish trend. The bullish trend will remain as long as the shares are above the 100-day MA.