The FLOW price action has been abysmal since its Binance listing in July, but trading volumes suggest someone is buying the dip. Flow (FLOW) is trading at $13.81 (+0.65%), a seven-day increase of +0.41% and -25% from its $18.39 listing price. FLOW has a market cap of $4.27 billion, ranking it the 46th most valuable cryptocurrency behind Aave (AAVE).
Flow is one of the few cryptocurrencies that have failed to generate returns over the last few months. Considering the platform ticks many of the investment criteria of the current climate, the performance is underwhelming, to say the least. The project was started by the team that brought the hugely-popular Cryptokitties to life and caters to the exploding NFT market. However, the FLOW price has been under constant pressure, apart from a debut-day spike to $41.89. As a result, buyers that were unfortunate enough to buy at the top are now wearing a -67% mark-to-market loss. And what's undoubtedly worse is that investors could have allocated the capital elsewhere. However, there are signs that FLOW may be about to break out on the upside.
Price Analysis
The 4-hour chart shows the FLOW price has turned higher in the last week. Furthermore, trading volume increased dramatically in the previous two days, which could suggest accumulation. As a result, the price is approaching trend resistance at $14.00. Successful clearance of the trend could provide a bullish catalyst targeting the October high of $21.28.
Of course, until the price clears $14.00, the downtrend dominates the action. Therefore, the path of least resistance is lower as long as Flow remains below $14.00. Furthermore, a failure to break out on the upside could drive the price back to the October $11.50 low.
At this moment in time, investors should sit tight and see how the price performs if it reaches the descending trend line. Considering how far Flow has fallen there is no need to pre-empt a breakout.
For now, I am ambivalent towards the Flow price and puts the odds of a breakout at 50/50. On that basis, I hold a neutral weighting on the token until a catalyst arrives in either direction.
FLOW price chart (4-hour)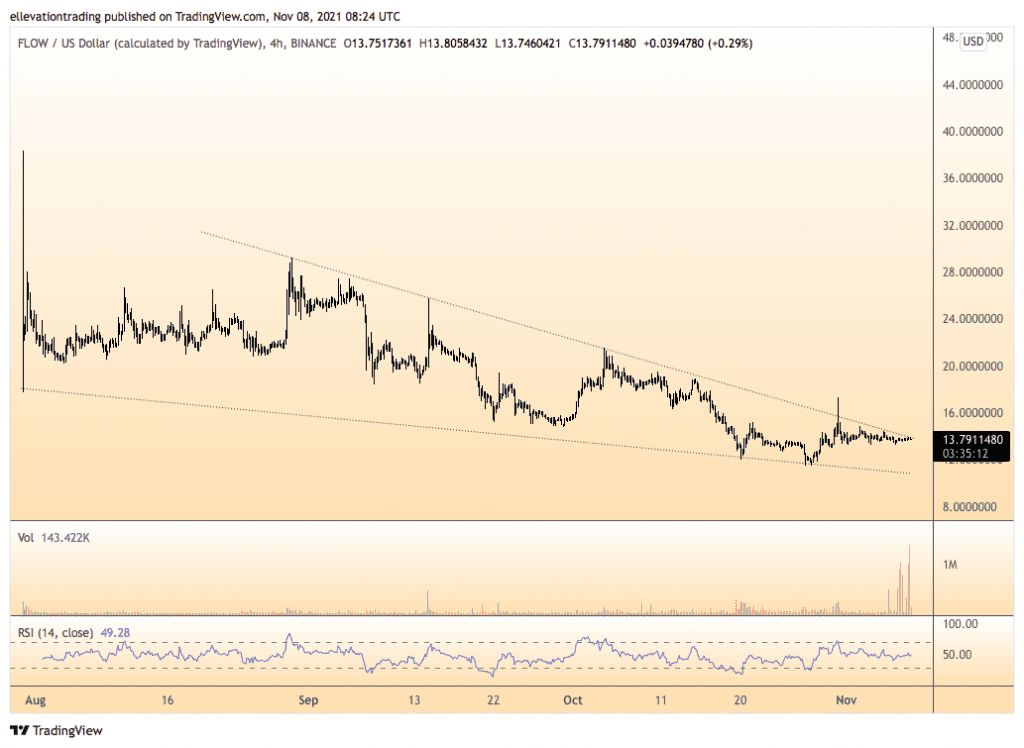 For more market insights, follow Elliott on Twitter.