In this article, we discuss the Internet Computer price and dive into the ICP token's technical outlook for the rest of 2021.
Internet Computer is the world's first blockchain capable of running at web speed and is considered the third major cryptocurrency innovation. The project's native token ICP has proved frustrating for investors since its launch in May. Cryptocurrencies were in the midst of this year's first bull market when ICP was listed on crypto exchanges. As a result, investors rushed to gain exposure to the much-hyped project, spiking the price as high as $3,161 on its first day trading on the Binance exchange. However, the gains were fleeting, and the Internet Computer Price ended the day at $365.
Since then, the token has been under constant pressure and, at the current level, is more than 95% below its all-time high. At its peak, Internet Computer was valued $57 billion and was one of the biggest cryptocurrencies. At the current valuation, ICP's market cap is $8.8 billion, ranking it the 25th-largest cryptocurrency, ahead of Crypto.com Coin (CRO).
ICP Price Forecast
The daily price chart shows that since dropping from the September high of $88.81, the Internet Computer price has been trending sideways between $36.50 and $60.00. Earlier this week, it looked like the ICP token was ready to break out on the upside. However, Bitcoin's sudden plunge from its all-time high forced the ICP price down to $43.00.
If Internet Computer successfully clears $60.00, it should extend towards the September high. And if the cryptocurrency market maintains the bullish momentum, ICP could rise above $100 by the end of the year.
For now, the price looks likely to remain trapped in the sideways channel. But as long as the support at $36.50 holds, a year-end target of $100 seems possible. However, if the price drops below $36.50, the outlook will deteriorate, Invalidating the bullish view.
Internet Computer Price Chart (daily)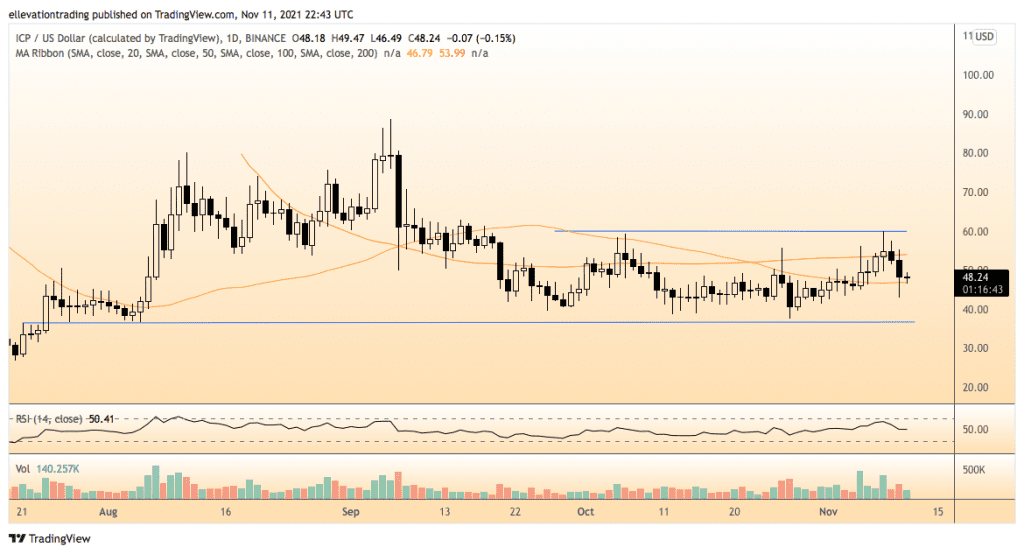 For more market insights, follow Elliott on Twitter.