Imperial Brands share price has had a strong performance in 2022 as investors remained attracted to its sweet dividend. The stock soared to a high of 2,190p, which was the highest level since September 2019. At its peak, the stock was about 51% above the lowest level in 2022, meaning that it has outperformed the FTSE 100 and FTSE 250.
Imperial Brands has outperformed other brands
Imperial Brands is a leading cigarette company that owns some of the biggest brands in Europe like West, Gauloises, Winston, Nobel, and L&B. Its other brands are products like Skruf, Golden Virginia, and Backwoods among others.
Imperial Brands share price has done better than other cigarette stocks in 2022. In all, the shares jumped by more than 30% in 2022, which was better than that of other peer companies like Altria, Philip Morris, and British American Tobacco.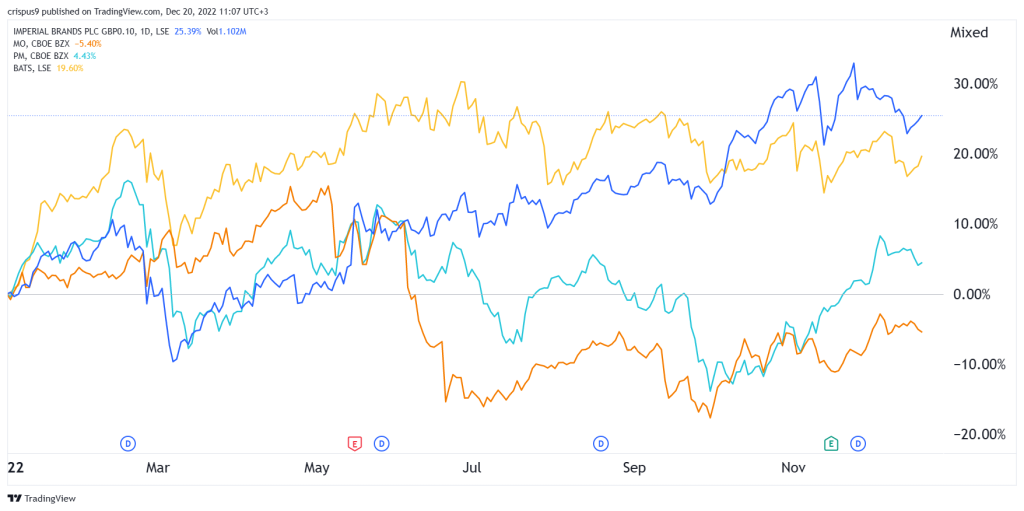 Imperial Brands share price rose in 2022 as the company published weak results because of its exit from the Russian market. The most recent result showed that the company's revenue for the financial year came in at £32.55 billion, which was a few points below last year's high of £32.7 billion. Its operating profit dropped by 14% to £2.6 billion while its free cash flow rose by 68% to £2.52 billion.
Imperial Brands is implementing a five-year strategy that involves growth of its new generational products, reduce costs, and achieving significant growth in this period. This growth will come out even as its key markets like Germany and the UK, where their market size declined by 4.1% and 11%. Spain market has grown by 4.8%.
Imperial Brands is a dividend machine
Tobacco stocks tend to be seen as sin stocks. As such, many investors tend to avoid them. Also, they tend to have significant debts. Imperial Brands has a trailing dividend yield of 6.82%, which is higher than that of other companies like Japan Tobacco, BAT, and Altria. It has a forward dividend yield of 9.30%.
Imperial Brands' finances are relatively strong, thanks to its substantial free cash flows. It has over $2 billion in cash and a net debt of over $9.4 billion. Therefore, the company will likely continue being a good stock for income investors.
Imperial Brands share price forecast
The daily chart shows that the Imperial Brands stock price has been in a bullish trend in the past few months. In this period, the stock managed to form an ascending channel shown in green. This price is between the ascending channel. It is also between the 50-day and 100-day moving averages.
The Stochastic Oscillator and the Relative Strength Index (RSI) have been falling. Therefore, the stock will likely continue rising in 2023 as the tobacco business rebounds. If this happens, the next key level to watch will be at 2,300p.