Following the heavy slump in the Coinbase share price seen on Tuesday and Wednesday, the stock appears set for a higher open this Thursday. However, the impending lawsuit that the Securities and Exchange Commission (SEC) is preparing against the exchange continues to constitute headwinds.
The SEC issued Coinbase with a Wells notice, which indicates it will bring a lawsuit against Coinbase if the proposed launching of its crypto lending feature Lend goes ahead. Coinbase has opted to delay the launch of this product until October, while it consults widely on its next line of action.
Coinbase Share Price Forecast
The daily chart shows an exciting price picture. The progressively lower peaks point to a potential double bottom formation, with the dip from the first peak finding support at 239.29. This support level now serves as the neckline. For the double top to be confirmed, the price must break down this neckline. This move requires that the ascending trendline support and the 250.92 support line are taken out by bearish action. If this occurs and 239.29 also gives way, the pattern is confirmed, setting up a measured move to the 223.29 support level. A further dip finds support around the all-time lows, somewhere around 208.75.
On the flip side, a failure to break down the trendline and the 250.92 support allows for a potential upside push towards 270.79 before 282.47 comes into the picture. A further advance tests the first peak in the likely double top at 293.72. The evolving pattern becomes invalid if this peak is surpassed, allowing for a possible price continuation to 309.55.
Coinbase Share Price (Daily)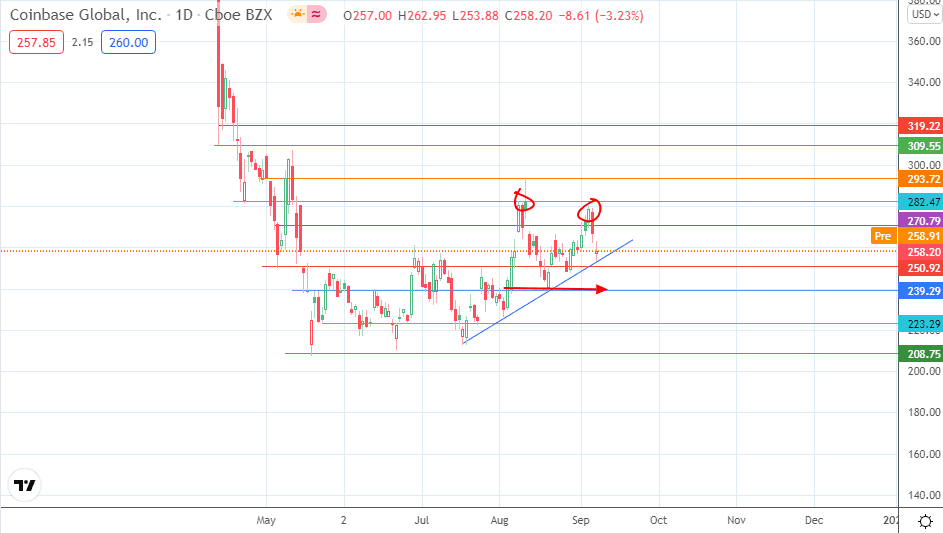 Follow Eno on Twitter.