The IDEX stock forecasts of a further decline following the completion of the rising wedge pattern are well on course, despite Monday's premarket jump by 1.65%. The IDEX stock price fell 4.65% on Friday to complete a four-day losing streak that has seen the stock tumble from two-and-a-half month highs at 1.1285 to 0.9143.
Ideanomics Inc intends to carry out an expansion of its facilities. There is a plan to open a combined manufacturing facility and a showroom in New Jersey by the end of 2022. This facility will be responsible for product assembly, development, and production. The facility itself occupies 4,000 square feet and will create about 100 jobs over the next three years.
The company's Wave and Soletrac subsidiaries also plan facility expansions. Wave will ramp up its Utah facility to increase production of its wireless car charging systems and also to develop 500KW and 1MW systems. Soletrac is relocating to its 36,000-foot manufacturing and assembly facility in Windsor, California.
The facility expansions indicate a growing demand for battery charging systems as the electric vehicle market expands beyond personal automobiles to include vehicles used in agriculture. Ideanomics, via its Energica and Soletrac subsidiaries, is a manufacturer of electric technology for the agric sector, with its proprietary e70N electric tractor and electric motorcycles encountering robust demand. The IDEX stock forecast in the short term may be bearish, but the stock continues to hold long-term potential. 
IDEX Stock Forecast for the Week
The decline below the rising wedge pattern puts the stock on course to attain the 0.7955 support target. Below this level, 0.5835 (15 November 2019 and 17 April 2020 lows) forms an additional target to the south. The 0.4000 psychological price mark (12/27 May 2020 lows) and the 0.2802 (10/19 March 2020 lows) constitute a potential southbound target.
On the flip side, the bulls need to seek a break of 1.1285 to restore the recovery of the stock. This move will have to come off a bounce at the 0.7955 price mark. If the 1.1285 barrier is broken, 1.2000 (14 September 2020 and 11 January 2022 highs) forms an additional target to the north. Subsequent barriers to the upside are seen at 1.4414 (4 January high) and at the 1.6634 (8 December 2021 high) price mark.
IDEX: Daily Chart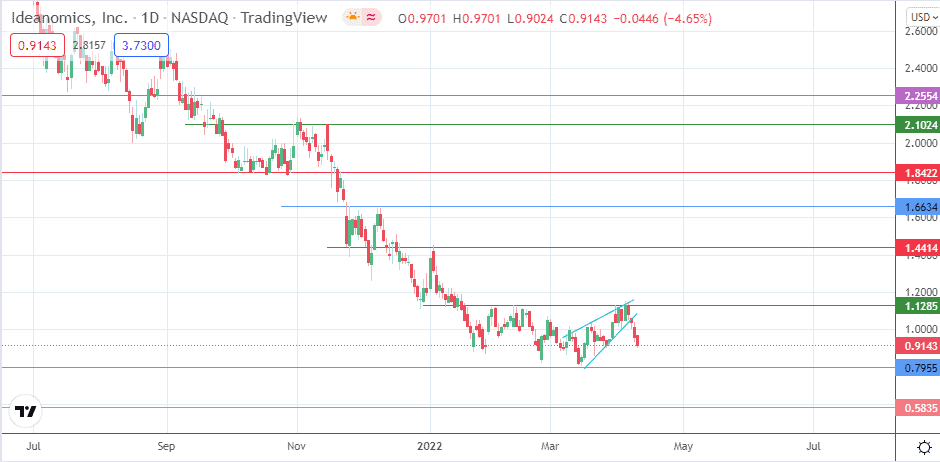 Follow Eno on Twitter.