The IAG share price continues its downward slide, losing 3.34% as of writing to top the FTSE 100 losers' chart. This will mark the 4th losing session for the week, as the airline stock continues to struggle against headwinds posed by the new wave of coronavirus delta infections.
Travel-related stocks took a hit as the US Federal Reserve warned that the US economy had a slight downshift in August, as travel and tourism in most districts experienced a pullback. The Fed's declarations, contained in its Beige Book review of the domestic economic situation, also highlighted the impact of international travel restrictions in some countries in contributing to the headwinds faced by travel stocks.
Further dampening the sentiment around airline shares was the 10% slump in shares of budget airline EasyJet, after it announced that it was seeking to raise £1.2bn in a rights issue after rejecting a takeover offer.
IAG Share Price Prediction
The decline in the IAG share price makes an IAG share price prediction for a drop towards 143.94 likely, as this level is the next available support following the breakdown of the 149.72 price level. Continued decline on this stock could put 143.94 at risk, with 136.64 (28 January low) and 133.38 (25 August 2020 and 26 January 2021 lows) lining up as potential targets to the south.
Conversely, hopes for a recovery of the IAG share price depends on the ability of bulls to initiate a bounce on 143.94 (where the channel's lower border is found), targeting a break of the upper border at 156.40. If this move succeeds, this enhances the chances of approaching 167.08. This resistance level must give way to allow 177.46 and 187.24 to become available. Otherwise, any rallies to established resistance barriers along the way may become new selling opportunities.
IAG Share Price (Daily) Chart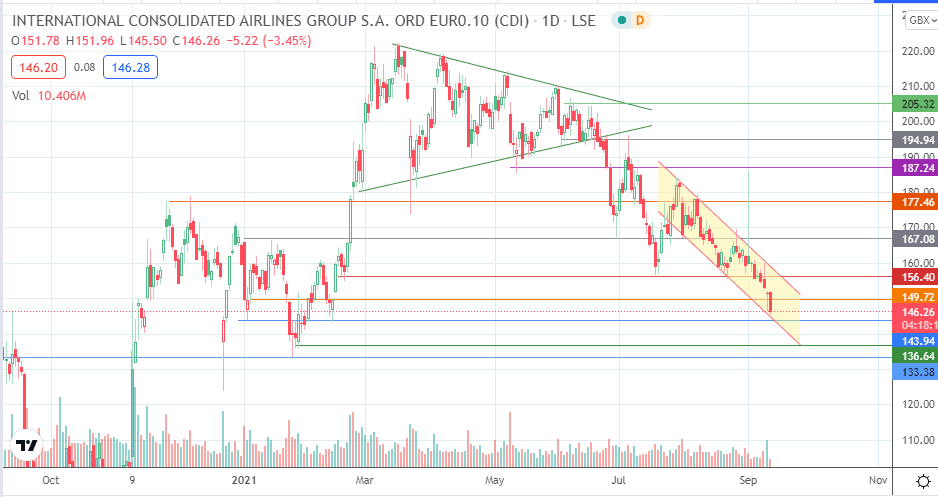 Follow Eno on Twitter.