The IAG share price is down 3.68% on the day, even as the price activity attempts a recovery to close the downside gap that formed during Monday's trading session. The LON: IAG share price opened steeply lower after British Airways, the largest airline under the IAG Group, suspended short-haul flights out of Heathrow Airport (LHR).
The suspension was because of an outage that affected the BA app and website. Operations at its terminal in LHR were also impacted, and these are expected to cause delays in regular long-haul flights. However, the stock has started to recover after the airline said it was an in-house hardware issue that affected its applications and not a cyberattack as initially feared.
LON:IAG Share Price Outlook
The IAG share price's uptick on the day has met resistance at the 149.72 barrier after the bears rejected the intraday violation to the upside to preserve its integrity. This barrier has to give way for the price activity to reach 156.40. 167.54 awaits the bulls if they take out 156.40, with 177.46 being the barrier of note that has held firm since 9 November 2021.
Conversely, a decline that follows rejection at 149.72 targets 143.94, which has been tested last week on several occasions and held firm. For 136.64 to emerge as a new target, the bears must break down this support level. Below this area, the previous double bottom that formed at the 128.20/123.94 support area becomes the next target if the price decline continues below 136.64.
BA: Daily Chart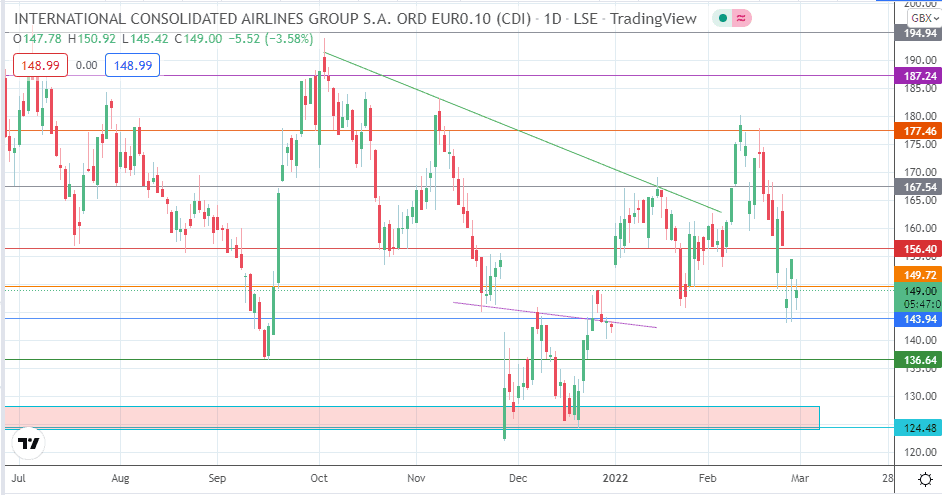 Follow Eno on Twitter.