The IAG share price was slightly higher after British Airways announced it had secured a $1.37 billion credit facility from UK Export Finance. 
According to a statement by IAG of which the UK airline is a member, the additional credit facility was not a necessity but will provide an additional financial buffer if the airline needed to use it. The airline would not need to use the 5-year facility on signing, the statement read.
British Airways had earlier secured a 2 billion pounds facility in December 2020, which it tapped into in March 2021 as airlines began to get their facilities back in shape on recovering global air travel. The IAG share price is up 2.18% as of writing.
IAG Share Price Outlook
The breakdown of the neckline of the head and shoulders pattern completed the pattern's evolution. The measured move towards 156.40 was completed, followed by a recovery bounce that violated the 167.54 resistance. Completing the break above this level opens the door for a retest of the former neckline at 177.46. An advance towards the 187.24 and 194.94 resistance levels is only possible if the bulls can uncap the 177.46 resistance and the 200-day moving average line.
On the flip side, rejection at 167.54 allows the downside move to resume. 156.40 could come under a retest. If the bulls fail to defend this support, 149.72 and 143.94 could become new targets to the south.
IAG: Daily Chart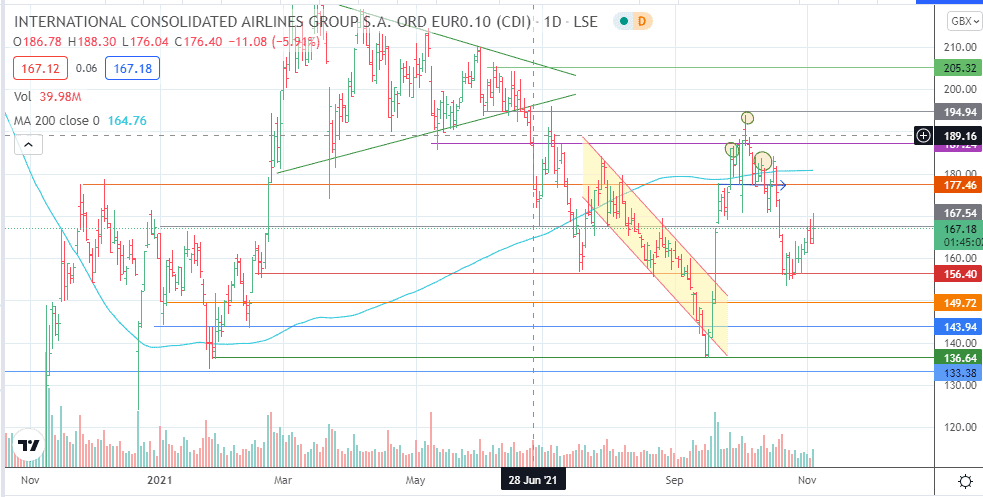 Follow Eno on Twitter.