It's official: a fresh record high for bitcoin is now in the books. At the time of writing, the highest dollar price of the world's first cryptocurrency stands just shy of $67k, smashing through April's high of $64,800. Since Bitcoin's recovery in August and September's from the $30k level, the debate among market participants, analysts and pundits had been whether the September rally to $52k would be the first lower-high (or dead cat bounce), marking the beginning of a protracted bear market.
It seems the bears have been silenced for the moment, and the crypto market has gained some clarity regarding the prospects of the entire asset class for at least the next few months into year-end. In the early hours of Monday, October 18, we received the first confirmation as BTC set an all-time weekly high at around $61.8k. Then we received a second confirmation on Tuesday, October 19, when bitcoin broke its all-time high against the euro at around €54k. The much-anticipated break of the dollar-denominated record high would take place the following day.
One All-Time High After Another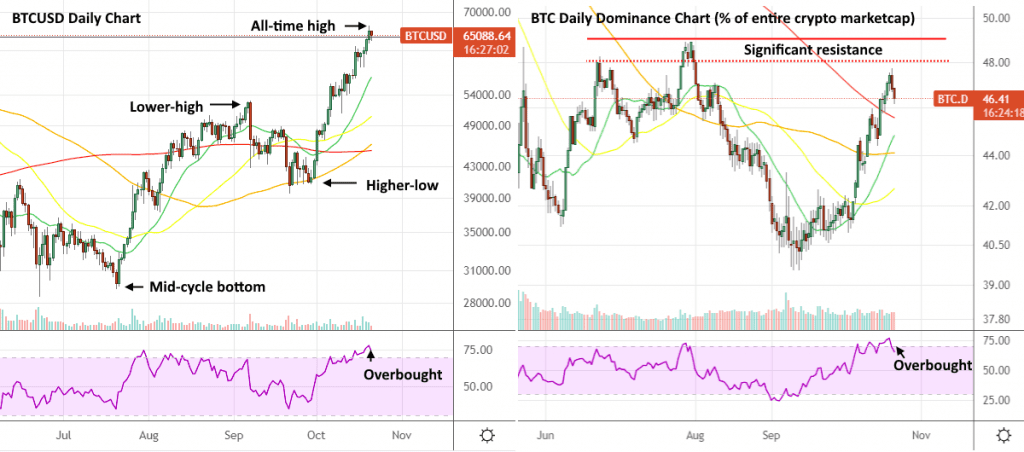 What Now?
Now, the most pressing question on the lips of crypto investors is how the broader crypto market will react to the news. The crypto market has followed bitcoin closely throughout this 2020-2021 bull market; however, BTC has left the rest of the "altcoins" behind for extended periods in previous bull markets. While a rising tide does indeed lift all boats (in dollar terms), if BTC continues to rally, the BTC value of altcoins will collapse, BTC dominance will grow, and eventually, capital will bleed from the rest of the market into BTC. To avoid this, BTC will have to consolidate at these levels and trade sideways for some time, allowing the rest of the market to catch up.
Trade with HYCM:  https://www.hycm.com