A quiet confidence is building among crypto investors as the broad market appears to be tentatively bouncing from recent lows. Perhaps bitcoin's recent holding of the previous cycle high of $20k as support was most significantly. 
After becoming greatly oversold in late June, where on the 18th it dipped down to around $17,600, it spent the next month attempting to reclaim that level before decisively breaking above it in late July.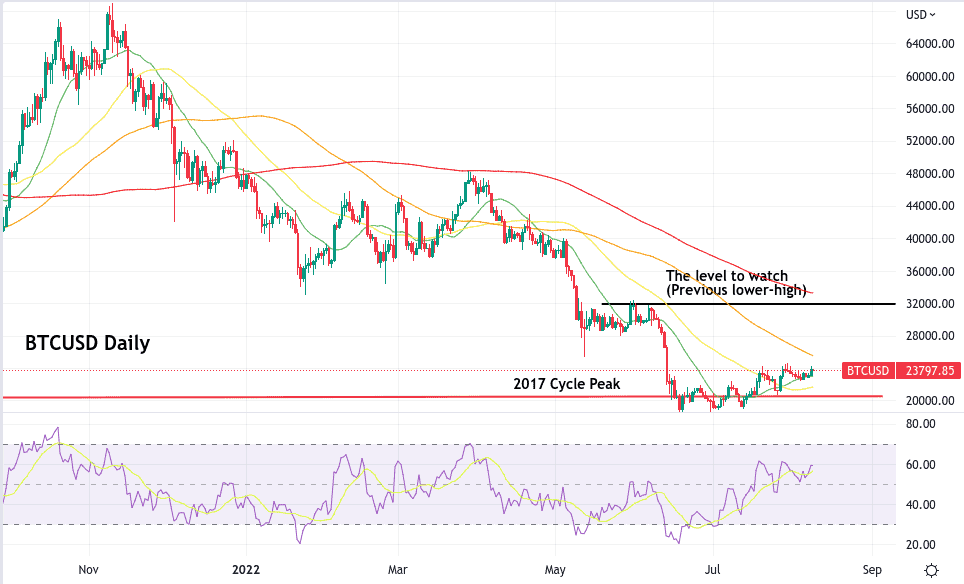 This has spurred a rally in the broader market in which ETH has gone from around $1000 to $1700, XTZ from $1.44 to $1.90, and ADA from $0.40 to $0.53. Are these the rumbling of a new bull cycle in crypto, or is there nothing to see here other than a typical bear market bounce?
The Good News
The way certain segments of the "altcoin" market have been responding to bitcoin finding support at $20k has been encouraging. However, in order for investors to feel secure that what's going on is a genuine rally, they at least want to see the current price reaching and exceeding the asset's previous lower high (the high of the last failed bounce).
For bitcoin, this level is currently around $8000, away at $32k, but ETH (currently at $1770) is within reach of its own lower high at around $2K. For XTZ, the level to watch is $2.22 (currently at $1.91), and ADA's previous daily lower high was $0.64 (currently at $0.53).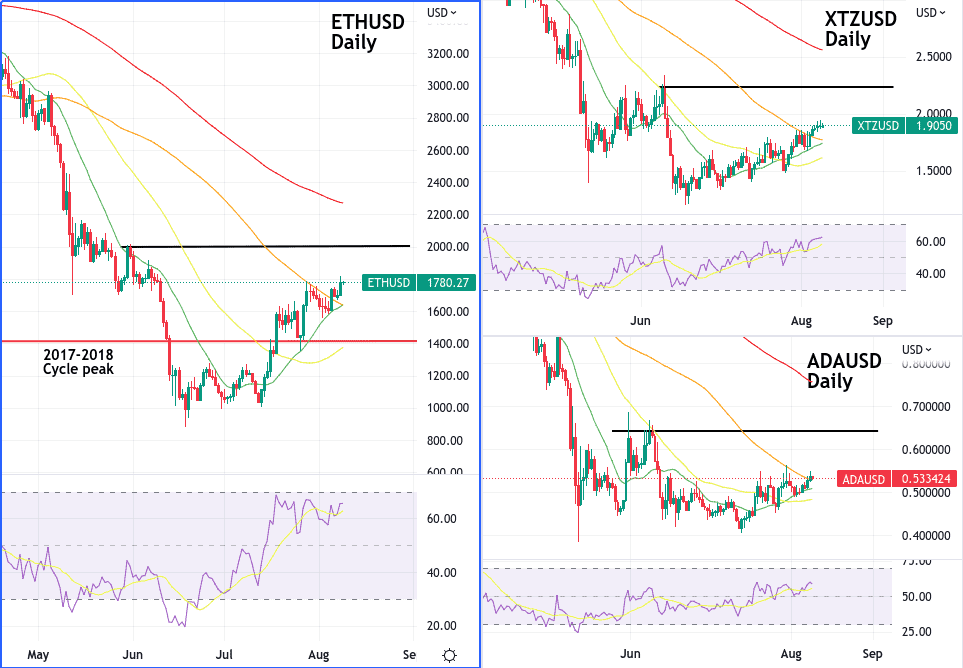 Aside from the technicals, there are some solid fundamental reasons for this recent bout of strength. First, First, Ethereum is currently generating a great deal of excitement as it nears the "merge" in which it transitions fully from PoW (proof-of-work) to PoS (proof-of-stake) consensus. 
Similarly, Ethereum's already established PoS rivals, Cardano (ADA) and Tezos (XTZ), also have a lot currently going for them, with Cardano about to complete its own major upgrade in the coming weeks and Tezos currently enjoying a surge in use owing to its low fees and throughput.
Not So Fast
At the moment, bitcoin has done the least technical work to make a convincing bull case. The price action from late June currently appears like a bear flag, which is ominous for the asset's medium-term prospects.
Also, we can't neglect to mention that this recent display of strength coincides with much of the same over in US stock markets, which crypto has been closely correlated with in recent years. As such, you have to keep in mind that no matter how rosy the fundamentals, or even the current technical picture, the fear is that a downturn in US stocks will inevitably translate to a knock on bitcoin's price, which will have an even larger knock-on effect on the broader crypto market. There is also quite a range of views on where US stocks head next, so risks are particularly pronounced with the medium-term picture of US growth and inflation so uncertain.