The HSBC share price extended its rally into the 9th trading day in a row as investors continue to flock to banking stocks in anticipation of central bank interest rate increases.
Higher interest rates produce higher yields on money market instruments such as bonds, and this fact is not lost on banks, who typically put a lot of money into these assets. As banks start to tighten monetary policy in 2022 and beyond, banks are positioned to be the top beneficiaries, brightening the outlook for earnings. Dividends are also expected to be more generous than they have been in a while.
The HSBC share price is at 22-month highs. JP Morgan sees higher dividend payouts from HSBC as the bank's margins improve. A 7 December forecast by an analyst at JP Morgan puts 2021, 2022, and 2023 dividend payments at 24, 25, and 30 Hong Kong cents per share (equivalent to 3.0, 3.2, and 3.9 US cents per share).
The HSBC share price is up 1.96% as of writing.
HSBC Share Price Outlook
The HSBC share price surge has taken the stock close to the 515.3 resistance (25 March 2020 high). Above this level, 540.0 (27 February 2020 high) is expected to be the next target in line before 574.1 (18 February 2020 high) becomes the additional target to the north.
On the flip side, rejection at 515.3 may induce some profit-taking, allowing for a correction towards 482.0 and potentially at 464.8. 447.6 comes into the picture if the correction is more extensive. With the bias for banking stocks on the bullish end, these support levels may also become potential dip-buying areas when the correction is deemed complete by the bulls.
HSBC: Daily Chart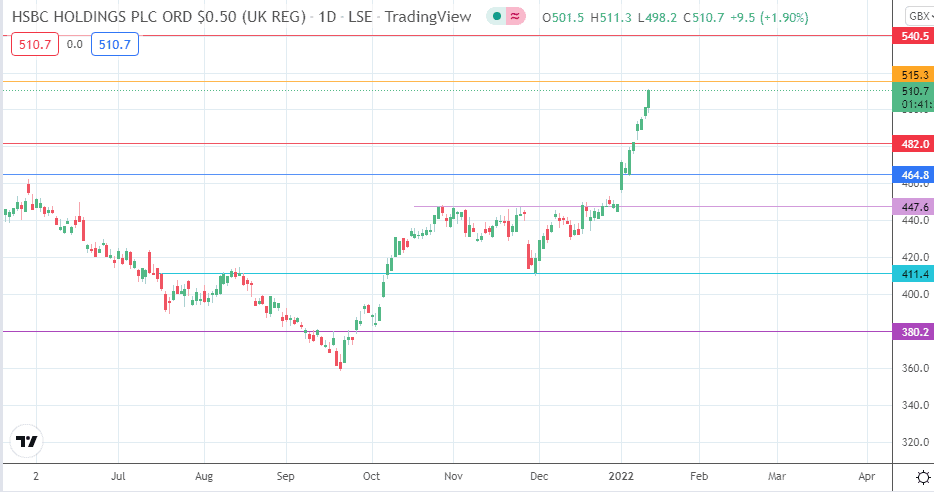 Follow Eno on Twitter.