The HSBC share price is trading lower on the day, as traders start to take profits from the recent bullish run that extended from December's break of key resistance at $447.60.
The recent surge in the HSBC share price follows the expectations of better dividends in 2022 as central banks worldwide start to raise interest rates. The bank is also boosting its product profile by reintroducing sub 1% mortgages, thereby making it cheaper for those interested in owning property to either acquire new ones or move up the ladder in the property market. The new mortgages carry a £999 fee.
The HSBC share price is down 1.21% as of writing, after facing rejection and a pullback from the 515.30 intraday high. After such a massive upside move in recent weeks, price action now looks overextended. Some profit-taking is now on the cards, and the expectation is for prices to pullback in the near term before resuming any further runs to the upside.
HSBC Share Price Outlook
After a huge burst to the upside, the HSBC share price has declined briefly on profit-taking. This has led to a drop towards the 504.7 support level (6 March 2020 low). A breakdown of this support level allows the bears to make a run towards the 491.5 support. 482.0 and 464.8 are additional price targets to the south.
On the other hand, a bounce on 504.7 takes the pair on a journey to retest recent highs at 530.0. If the advance continues, new multi-year highs at 540.5 become visible. 574.1 only enters the picture if the advance continues beyond this point.
HSBC: Daily Chart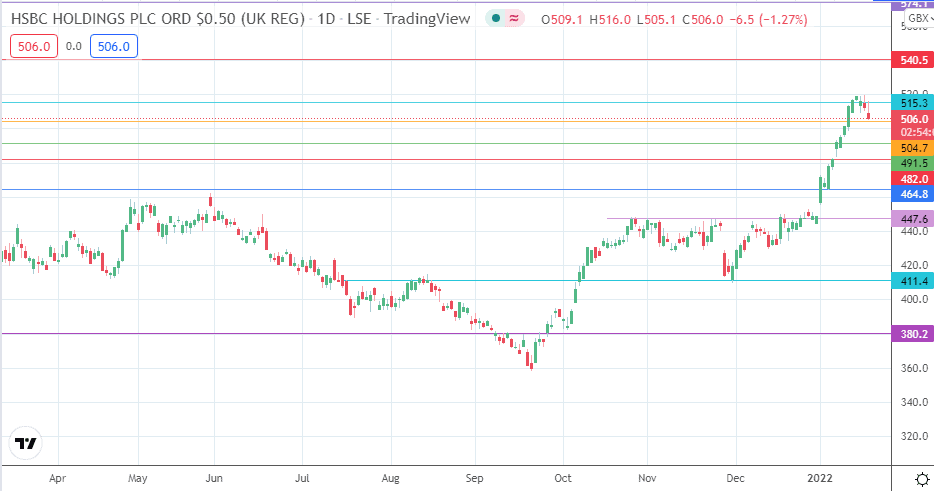 Follow Eno on Twitter.