Introduction
VeChain is an Asian blockchain project that is aimed at enterprise customers. The network aims to solve some of the biggest challenges facing companies using the power of blockchain technology. Companies in industries like healthcare, retail, logistics, and finance can all use the technology. VeChain uses the VeChain Thor technology, which is then powered by the VET token. At the time of writing, VET was trading at $0.1154 giving it a market capitalization of more than $7.42 billion.
History of VeChain
VeChain is a second-generation blockchain that was started by Sunny Lu in 2015. Before founding the project, Lu was the chief information officer (CIO) at Louis Vuitton China. He started the project after seeing the success of Bitcoin, the first cryptocurrency in the world. At the time, other level 2 blockchain projects like Ethereum were also coming up. Also, there were limited blockchain projects that were tackling problems faced by companies.
While Bitcoin and Ethereum used a proof-of-work (PoW) mining method, VeChain used what is known as proof-of-authority (PoA). This is a system that demands that all nodes need to be authorized in order to participate in the blockchain consensus. The developers moved from PoA 1 to PoA2.0 in 2018. This upgrade led to self guarantee on blocks and transactions. It also led to faster converging finality and a significant reduction of the platform's risk of being temporarily disrupted.
Real-World Application of VeChain
Today, VeChain is used by many entities, which are mostly in China. Some of the companies that use the network are Louis Vuitton, BMW, and Walmart China. For example, Walmart is using VeChain to trace food projects in the country.
At the same time, Renji Hospital is using the technology to help in tumour treatment while Bayer is using the technology to trace drugs. Additionally, the developers are aiming to make the technology a key part in the development of enterprise non-fungible tokens (NFT).
What to consider when buying VeChain
Like all cryptocurrencies, investing in VeChain is relatively risky. For example, in mid-2021, the VET price declined by more than 70% during the cryptocurrency meltdown. Therefore, there are several things to consider when buying VET.
First, unlike Ethereum, data of projects built using VeChain is relatively difficult to track. With Ethereum and other projects like Binance Chain and Solana, it is easy to see the overall performance of their networks.
Second, in most cases, the price of VeChain and other altcoins tends to have a close correlation with Bitcoin. In other words, the price tends to rise when Bitcoin rises and fall when it declines. Therefore, at times, it makes sense to use VeChain as a proxy for Bitcoin.
Third, you should pay a close attention to VeChain's on-chain data. These numbers show you more information about the activities in the industry. Some of these onchain numbers are shown below.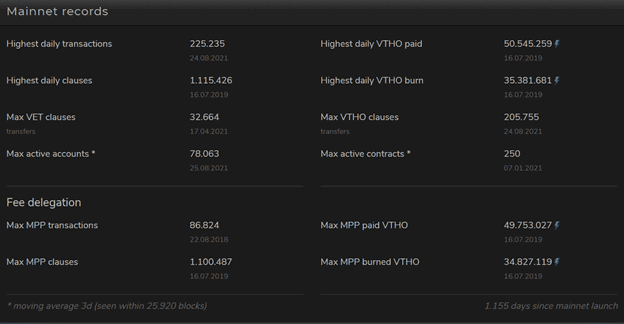 How does the VeChain (VET) work?
There are three main levels to watch when looking at how the VeChain ecosystem works. First, there is real-world technology. In this, VeChain works by giving physical products a unique identification code. The most common of these codes are radio frequency identification (RFID) and QR codes. After doing this, the sensors will observe the movements of the item. This data is captured and handled using blockchain technology, meaning that it can't be changed.
The second part of the VeChain network is VET. This is the native token for the ecosystem. In other words, the more a company uses the Vechain platform, the more they pay using this token. Finally, there is the platform, which is the mainnet ecosystem that handles these activities. This platform, which is known as VeChainThor, uses a proof-of-authority. This differs from other platforms that uses a proof-of-work or a proof-of-stake technology.
How to buy VeChain
For most people, their interest in VeChain is all about how they can buy the VET token. As mentioned above, VeChain is one of the biggest altcoins in the world. In a single day, VETs worth more than $1 billion are traded bought and sold in the market.
The process of buying VETs is a relatively simple one. For a real beginner, the process starts by finding a good exchange that offers the coin as an option. Some of the most popular exchanges that offers the coin are Binance, FTX, Huobi, Kraken, and Gemini. For a complete list of the best exchanges, we recommend that you look at this list by CoinMarketCap.
When looking for an exchange, we recommend that you look for one that has a good reputation and one that is regulated. Recently, many regulators – in the US, Japan, UK, Netherlands – have warned about Binance. You should also look for a broker that has minimal fees for buying and selling of coins.
After finding a good broker, you should create an account, verify your identity and proof of address, and then deposit your funds. Many brokers accept deposit options like bank transfer and debit and credit cards. Finally, with your funds in the wallet, you should now purchase VET Tokens.
Let's use the example of a broker like Binance.
Sign Up and verify documents
First, go to the website or mobile app and click sign up if you don't have an account. You will need to provide some key information like your name, country, and email address. Also, to comply with KYC requirements, you will need to provide your ID and a proof of address.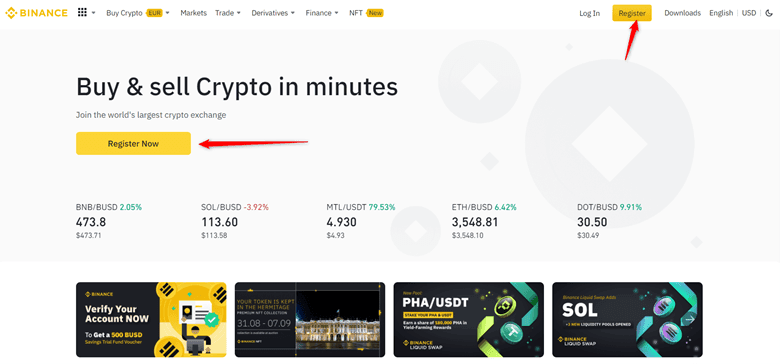 Deposit funds
The next step is where you deposit funds into your wallet. Binance allows several options of depositing funds like bank deposit and credit and debit cards. You can also use other peer-to-peer payment options like Paxos and Banxa.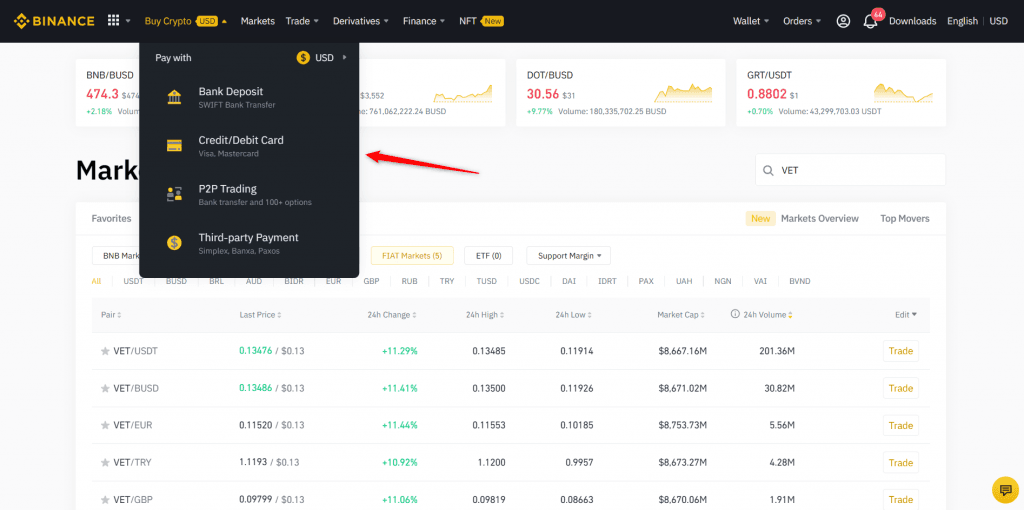 Search for VeChain (VET)
In your account's homepage, search for VeChain and select how you want to buy it. You can buy VeChain spot or futures. Click trade.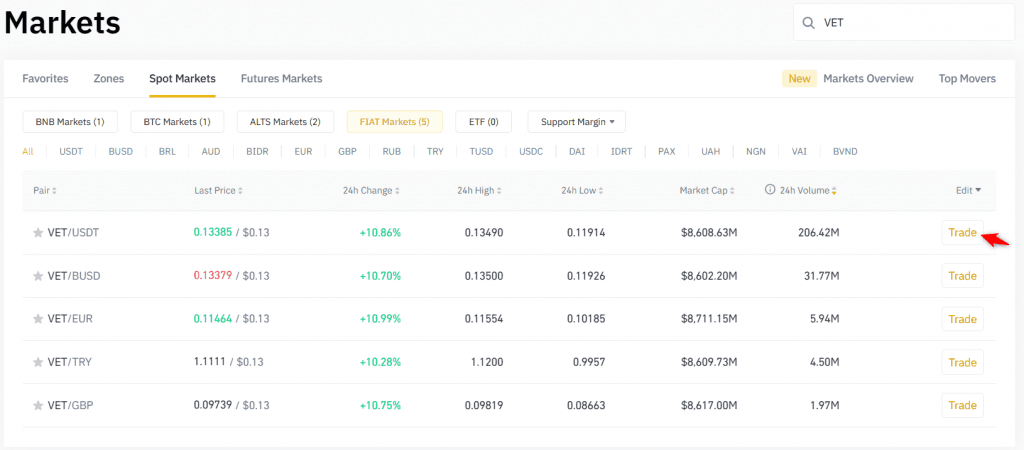 Analyze and buy
After doing this, you will be taken to a page where you can do technical analysis, look at order flow, and then buy and sell the VET coin.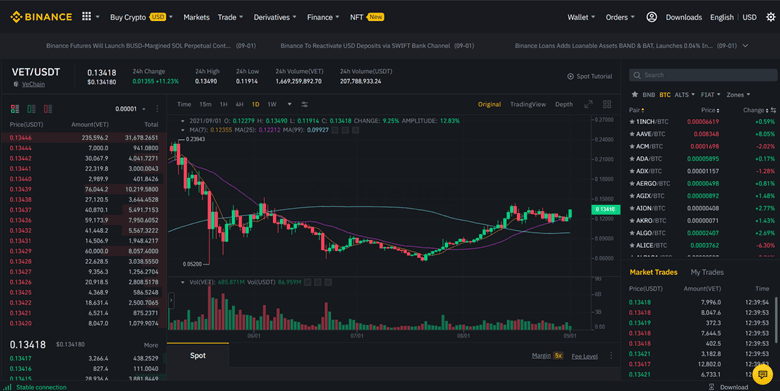 Can I buy VeChain on Coinbase?
Coinbase is the second biggest crypto exchange in the world after Binance. It is also the biggest publicly traded crypto-focused company. A good thing about Coinbase is that it offers many cryptocurrencies in the market. One of the most popular ones is VeChain. So, you can both buy and even trade VeChain using the Coinbase platform.
How to trade, sell, or convert your VeChain tokens
We have looked at how you can buy VeChain. Now, if you want to trade the tokens, there are several additional steps to follow. First, we recommend that you only trade VeChain if you have experience in both fundamental and technical analysis.
Second, using the exchange you found above, you should create a trading account. Coinbase has a Coinbase Pro platform that allows people to trade coins on leverage. The same is true with other cryptocurrency exchanges like Huobi and Kraken.
Third, with your funds in the trading platforms, your work will be to find opportunities to buy and sell the coin. If you expect its price to rise, you will need to buy. Similarly, if you expect its price to drop, you will need to short the coin.
After doing all this, you can convert your VeChain tokens into fiat currency like the US dollar or euro. Exchanges have various withdrawal options like cards and direct to bank account.
Is VeChain a good investment?
A common question is whether VeChain is a good investment or not. From a fundamental view, VeChain is a blockchain project that solves some key challenges facing companies. However, its biggest challenge is that it is facing a lot of competition from projects like HederaHashgraph that target enterprise customers. Still, the coin will likely keep doing well so long as Bitcoin continues gaining traction.