The Hindustan Unilever share price is facing strong headwinds after a consolidated profit miss in Q2. The Indian consumer goods giant reported underwhelming growth which resulted in a sell-off on Friday. As a result, the shares were down 2.08% on Friday.
Indian equities are also experiencing a bearish sentiment along with their Western counterparts. The geopolitical tensions, soaring oil prices and inflation have become a common concern for global equity investors. Consequently, on Friday, the benchmark Nifty 50 and BSE Sensex, both indices opened lower.
The prevailing bearish sentiment in the Indian stocks coupled with the disappointing Q2 results of Hindustan Unilever and tanked the stock to fresh weekly lows. The company reported a volume growth of only 2% against the analyst expectations of 3% to 4%.
The consumer tightening in discretionary spending has hurt rural demand which is the major factor contributing to slower growth. These growth concerns have resulted in Jefferies reducing its Unilever share price target to ₹2720 from ₹2760.
Let's analyze the stock on a high timeframe to see where it is heading next. The following chart shows the price action of the stock on a daily timeframe where each candle encapsulates a whole trading session.
NSE: HINDUNILVR Chart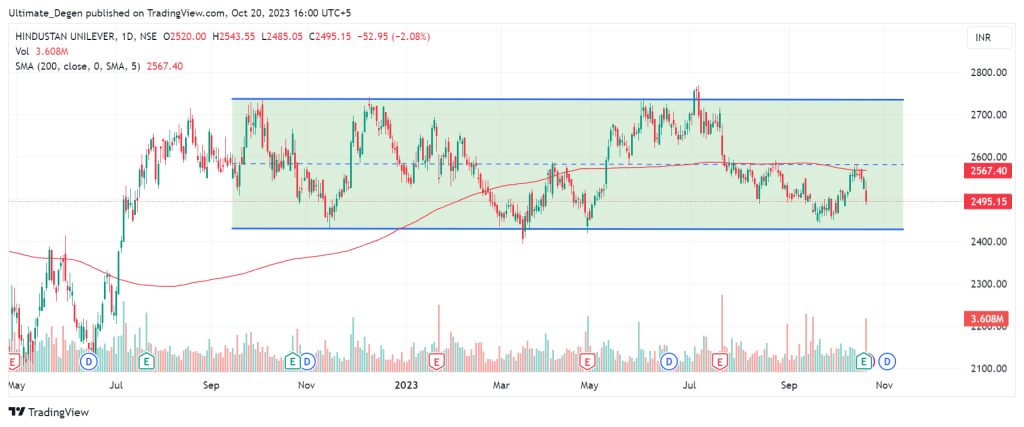 Hindustan Unilever Stock Price Outlook
For the past 12 months, Unilever stock has been trading within the 2430-2730 range. The sideways price action is evident from the chart above. The 200 MA which I often talk about, lies exactly at the middle of the trading range and hence resulted in a recent rejection.
This rejection has turned Hindustan Unilever share price forecast bearish for me. The most likely scenario from here onwards seems to be the retest of the range lows around 2430. This will be a 2.4% correction from the current price of 2495. To avoid this outlook, bulls need to break above 2584 which seems unlikely right now.