The Glencore share price is trying to hang on to intraday gains, which would keep it just shy of the week's opening price of 373.00.
The price action remains in consolidation for the second month, after gains in the first three quarters of 2021 due to a recovery in global commodity prices. With scientists still trying to decode how virulent or passive the Omicron variant of the coronavirus is, commodity traders appear to be sitting on the sidelines until new scientific data can be relied on to gauge forward demand.
This is why the Glencore share price has been trading sideways. Traders are also monitoring the company's response to activist investors who want Glencore out of the coal business. Many companies have exited coal, leaving Glencore as the dominant player in this market.
Coal prices have shot up in recent weeks, with the asset trading near October 2008 highs. Higher prices mean greater profits for the commodities giant. Glencore has indicated it will only shut its mines in a graduated fashion within thirty years. This decision is backed by its major investors. It will be interesting to know if pressure from other quarters than the activist investors will cause a change of mind in 2022.
Glencore Share Price Outlook
The Glencore share price uptick tested the upper edge of the triangle but met intraday rejection. However, there is still some upward momentum at play. If this momentum breaks the triangle's upper border and the 375.30 resistance, we could see a measured move towards the 400.05 psychological support. 410.35 is an additional barrier to the north, marking previous highs seen on 3 September 2012 and 11 February 2013.
On the other hand, bearish momentum needs to enter the market to carry price action below the triangle and the 351.50 support. This move would have free reign to target 342.10 and 334.75 in the first instance. If the decline is extensive, 319.70 and 302.40 will become additional barriers to the south.
Glencore: Daily Chart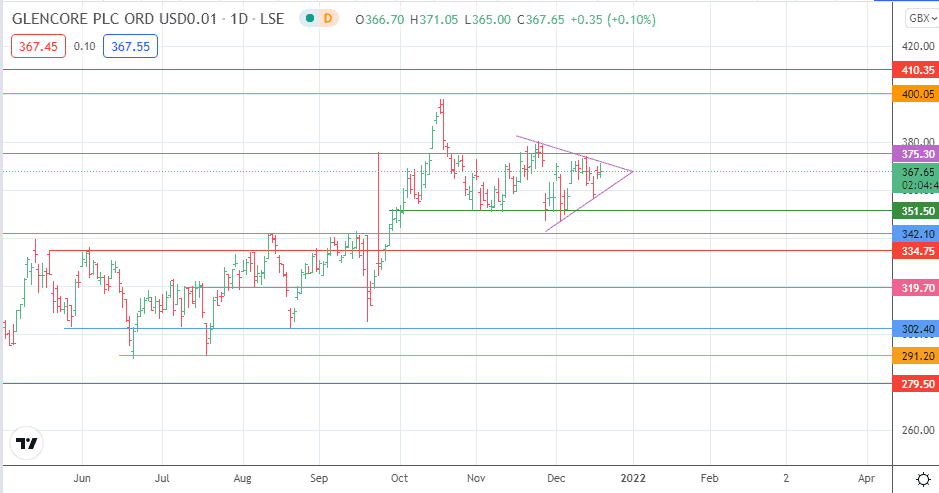 Follow Eno on Twitter.