The HBAR/USDT pair is down 0.15% as of writing, on a lack of general bullish momentum of the crypto market. However, the Hedera price prediction remains essentially unchanged, despite the loss of the week's earlier gains. This comes as the HashPackApp implements a new patch that supports secure sign-in of smart contracts.
The lull in crypto market activity on Tuesday stems from the decision of the prominent players to wait out the latest Bitcoin regulations to be announced by US President Joe Biden. As has been the case in the last two weeks, many crypto tokens have seen their prices subdued due to geopolitical factors and not necessarily because of the inherent fundamentals. HBAR is one such asset, which despite positive developments within its ecosystem, is down for the 4th week in a row.
Hedera Price Prediction
The Hedera price prediction outlook remains unchanged from the previous one I provided a week ago. The price activity continues within the context of the falling wedge on the weekly chart. This week's 0.15% decline as of writing brings the HBAR/USDT pair closer to the 0.1930 support level.
A bounce from this area will put the wedge's upper border on the pressure. An upside violation of this border by a 3% penetration close confirms the break of the wedge. A measured move that targets 0.3471 will only be successful if it takes out sequential targets at 0.2680 and the 0.3000 psychological resistance (10 January high).
Otherwise, a breakdown of the 0.1930 support and attainment of the 0.1535 support target (19 July 2021 low) will invalidate the wedge pattern. This will also degrade the ascending channel and create room for further price deterioration. Support levels at 0.0948 (8/22 February lows) and 0.0646 (2 March 2020 and 17 August 2020 highs) form other targets to the south.
HBAR/USDT: Daily Chart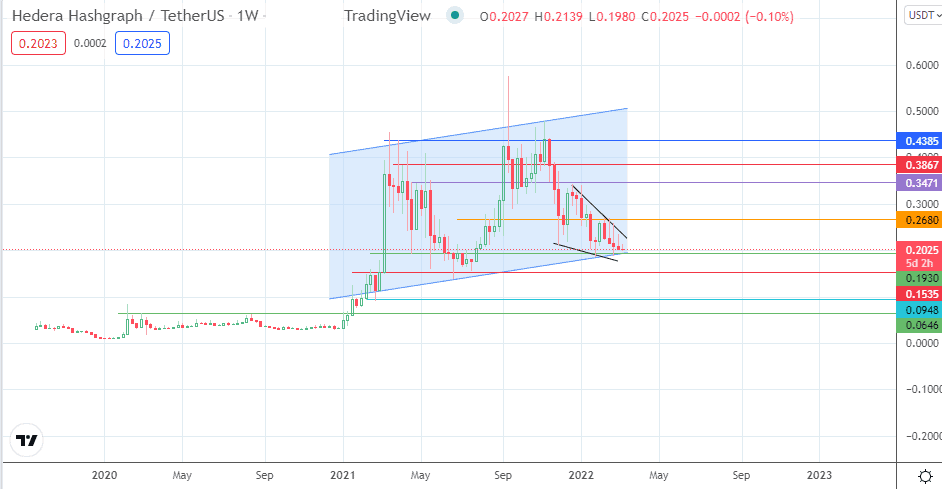 Follow Eno on Twitter.