Hedera Hasgraph was founded in Dallas in 2018 and is a platform for building decentralized applications, using the hashgraph algorithm for a more transparent and efficient network. Hedera uses a hashgraph consensus mechanism, enabling better distribution and decentralization of voting rights on the ecosystem than could be obtained with Ethereum or Bitcoin. Hedera's blockchain is used in energy, agriculture, advertising, and supply chain management. More than 39 organizations serve in the governing council for Hedera's Hashgraph.
Hedera Hashgraph Coin Founders
Hedera Hashgraph was co-founded in 2018 by Mance Harmon and Leemon Baird. Baird was responsible for inventing the hashgraph consensus algorithm. This algorithm ensures almost 100% efficiency in bandwidth usage, ensuring that more transactions per second can be effected in a single, fully connected mesh of nodes in the network. This consensus algorithm's beta test has produced up to 10,000 transactions per second.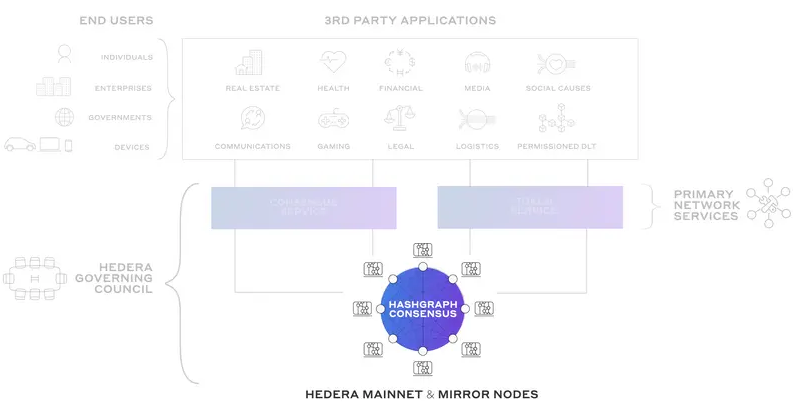 Hedera Hashgraph Road Map
Hedera Hashgraph has released its 2022 roadmap. This roadmap has been divided along the lines of quarterly milestones. For clarity, HIP stands for Hedera Improvement Proposal.
Q1 2022 kicks off with support for ECDSA keys (HIP-222). The HIP-32 upgrade will enable auto account creation, providing Hedera's users with a new way to open accounts using a public key. Also to come in the first quarter of 2022 is the HIP-21 and HIP-33 upgrades, which will provide free address book queries and add a network ID field to information responses. This change affects all entities.
Another Hedera Improvement Proposal upgrade for Q1 2022 (HIP-31) is splitting the amount field in token transfers to provide the option of full or fractional decimal transfers and changing the transaction throttling mechanism so it can be based on gas usage and reservations (HIP-185).
Two smart contract implementations are also due for the first quarter of 2021. These are the improvement of the Hederal Smart Contract Service performance using the Besu EVM hyperledger, and the integration of the Hedera token service into the EVM (HIP-206). HIP-179 will allow clients and SDKs to sign transactions with devices, services, and third-party programs.
Here is what is lined up for the 2nd quarter of 2022.
Implementation of the Ethers.js smart contract.
Approval and Allowance API to be deployed for the Hedera token service (HIP-336).
Ownership of NFTs and fungible tokens via the implementation of a smart contract.
Expiration and renewal of smart contracts will be enabled.
HIP-329 upgrade to allow a smart contract deployment to a predictable address on Hedera.
Promote interaction between Hedera smart contracts and token service accounts to mimic ERC-20 and ERC-721 accounts.
Mirror node data scalability, allowing huge data size volume between consensus and mirror nodes to be supported.
Downtime windows for nodes on the Hedera testnet, mainnet and previewnet when undergoing maintenance.
Staking rewards program to be instituted.
Deployment tools for Hedera smart contracts to be initiated.
Several other developments are slated for the second half of the year. These include merging transactions (HIP-173), scheduling longer-term transactions on the mainnet, smart contract traceability (HIP-260), and introducing permissioned community nodes.
Hedera Hashgraph's Adoption Statistics
Hedera surpassed the 1-billion-transaction mark in April 2021 much faster than Bitcoin or Ethereum. In addition, the deployment of the Hedera Consensus Service for handling the majority of transactions on Hedera has also led to a much smaller energy consumption imprint than Ethereum.
Since the Hedera mainnet went public in 2018, several corporate entities have signed up to use its blockchain. These include AdsDax, Coupon Bureau, Everyware, Entrust, Hala Systems, ProvenDB, and Safe Health Systems.
The number of decentralized applications on Hedera Hashgraph is also rising. In 2018, there were less than 20 dApps on Hedera. In July 2020, there were just 26. Today, there are more than 100 dApps.
Hedera Hashgraph Price Prediction 2022
The weekly chart presents the medium-term price picture. It can serve to determine the Hedera Hashgraph price prediction 2022 outlook. The active weekly candle has shown a 12.36% uptick in price, with further advance only checked by the 0.2680 resistance mark. This resistance also intersects the upper border of the evolving falling wedge pattern.
The 0.3471 seems to be the barrier to beat to ensure a profitable Hedera Hashgraph price prediction 2022 outlook. This is because a break of the falling wedge will complete the measured move at that barrier, a former neckline of the double top that preceded the correction from the September/November 2021 double top. If that barrier is scaled, 0.3867 and 0.4385 will become new targets for 2022.
Conversely, rejection and pullback from current levels bring the 19.3 cents support into the picture, with 15.35 cents serving as the additional downside target. A $1 price target may be a tall order for Hedera Hashgraph at this time.
Hedera Hashgraph Price Prediction 2025
Despite the recent correction, the Hedera Hashgraph price prediction 2025 indicates the potential for a recovery. The monthly chart shows that the asset remains in an uptrend. The higher lows of the June 2021 and January 2022 monthly candles reinforce the higher highs of March and September 2021 candles, indicating that the uptrend remains intact. Price action continues to operate within the confines of an ascending channel.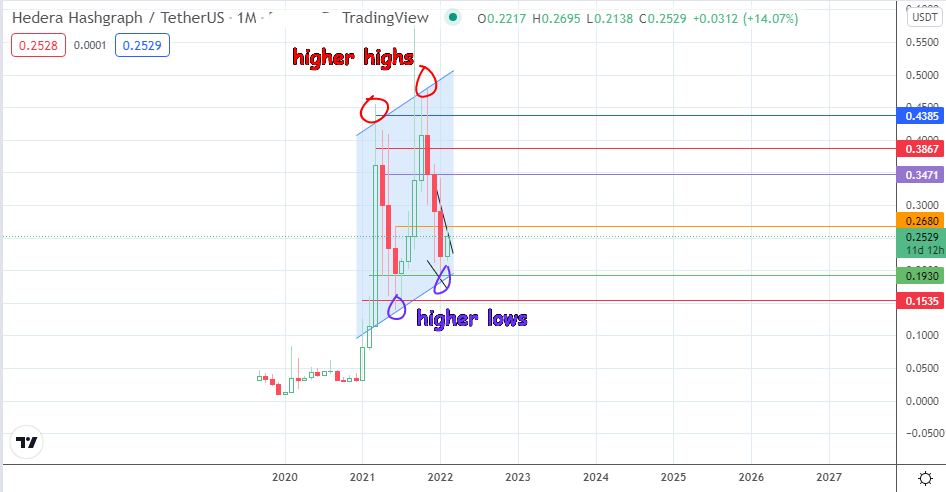 The bulls need to build on the recent bounce at 19.3 cents to break the 26.80 and 34.81 cents barriers, which makes it more probable that 38.67 and 43.85 cents resistance will allow for establishing a new higher high. If this scenario plays out, the likelihood of a bullish Hedera Hashgraph price prediction 2025 outlook that includes a $1 target is raised.
Is Hedera Hashgraph a Good Investment?
Is Hedera Hashgraph a good investment? Notable Shark Tank investor Kevin O'Leary thinks it is. O'Leary has a net worth of $400 million, and his investment focus is to invest in blockchain networks that are going to warehouse metaverse projects. According to a recent KITCO News interview, he has included Hedera Hashgraph in his investment portfolio.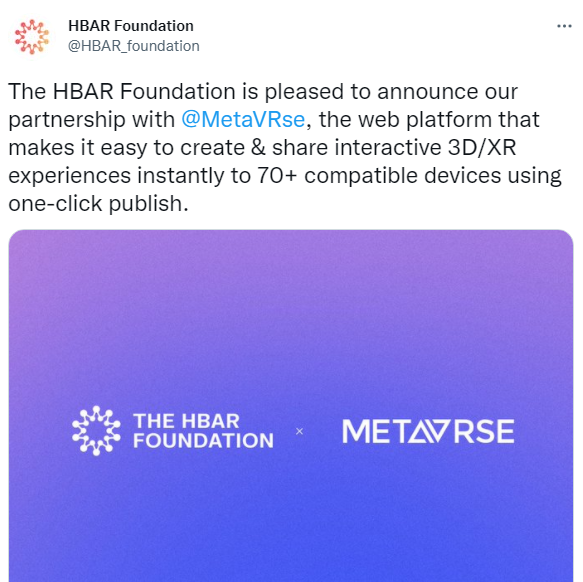 So the question is: can Hedera Hashgraph position itself to attract stunning Metaverse projects? The HBAR Foundation joined the Metaverse race in December 2021. It is partnering with MetaVRse to enable the companies to build Metaverse projects on its platform. The news spurred a 27% spike in the second week of December 2021. So yes, the Metaverse could be a game-changer to make HBAR a good investment. Prices are currently attractive for entry, but returns will depend on how well the HBAR Foundation executes its Metaverse strategy.
How to Buy Hedera Hashgraph?
How can you buy Hedera Hashgraph (HBAR) tokens? The HBAR token exists as a pairing with Tether, Bitcoin, or the US Dollar on many crypto exchanges. You can buy HBAR tokens with these cryptos or fiat channels using market orders or limit orders. Limit orders are the best bet in volatile market situations to avoid excessive fees and slippage.
HBAR/USDT: Weekly Chart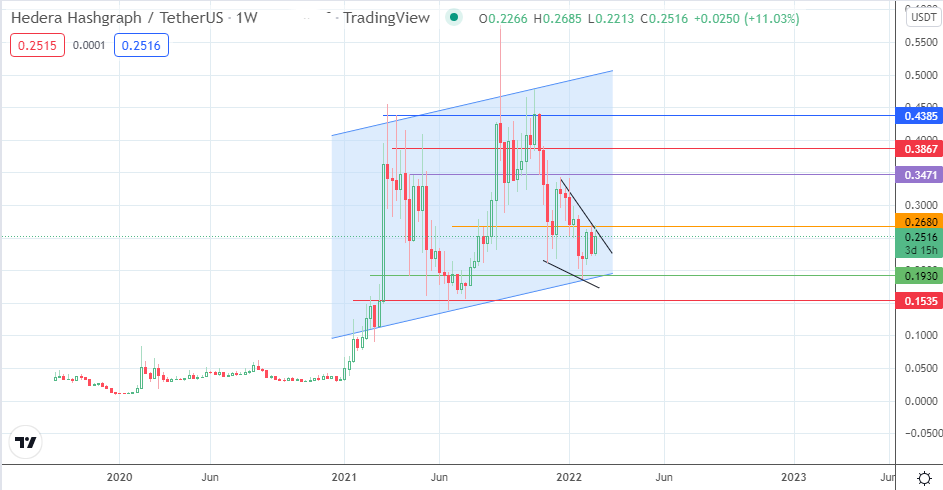 Follow Eno on Twitter.