The current absence of any market-moving news for this stock has projected an HCMC stock forecast for the range-bound status of the stock to continue. So far, the price action has traded within the boundaries defined by 0.003 above and 0.002 below. The price differential between the floor and ceiling, coupled with the low trading volumes, makes it challenging to perform traditional range trades.
However, the situation may change when the company delivers its next earnings announcement. This event has been tentatively scheduled for 3 March, but the company has not confirmed this. The last recorded annual revenue was $13.92m. However, no earnings have been generated in the last four quarters.
Healthier Choices Management Corporation (HCMC) is listed in the OTC market and provides products for healthcare and wellness. These products include a range of beauty and personal care products, vitamins and supplements.
The company has 339.74 billion outstanding shares and a 30-day trading volume of over 416 million shares. The stock has had a poor annual return, losing 84.62% in the last year after its meme stock status came crashing down. The stock is presently trading lower for the week, down 20% as of writing.
HCMC Stock Forecast
The rectangle pattern defines the boundaries of the price action. A break above 0.003 is required to attain upside targets at 0.0005 and 0.0007 (September 2021 highs). The neckline of the previous double top of 8 February/3 May 2021 at 0.001 is a potential but presently ambitious target.
On the other hand, a decline below 0.0002 targets the 0.000001 price mark. This will mark the lowest price ever achieved by the stock.
HCMC: Daily Chart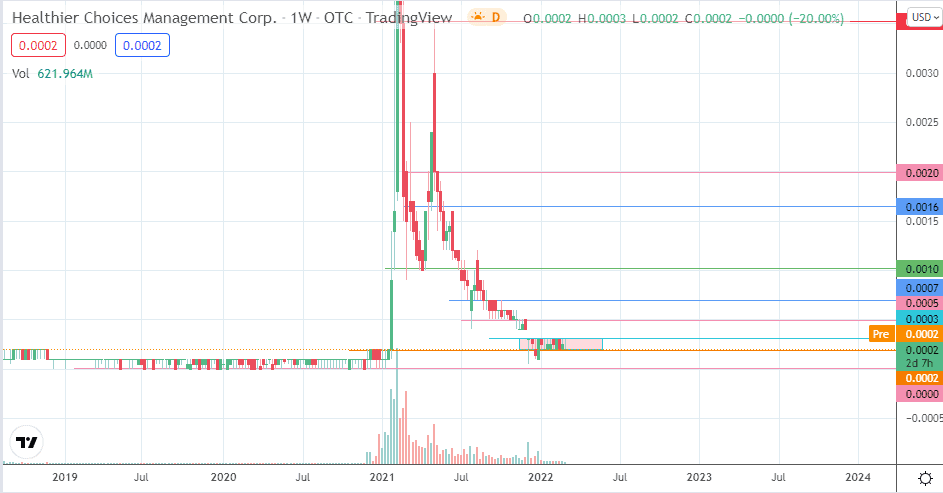 Follow Eno on Twitter.