Our Harmony one price prediction shows that a bullish move could be just around the corner. In Thursday's trading session, Harmony one price failed to make a higher high and faced rejection from $0.18. This rejection also aligns with the downwards trendline that started right after hitting $0.38 in October 2021. Harmony one crypto price exploded earlier this year as DeFi Kingdoms went viral across the whole crypto world.
Latest Harmony One News
Recent stats show that the decentralized finance on Harmony one is gaining traction. The TVL on the platform suddenly surged in January 2022 as users rushed on to it for DeFi Kingdoms. It is a blockchain game that combines the aspects of DeFi and play-to-earn gaming on Harmony DeFi. This sudden increase in TVL garnered even more attention to Harmony One coin.
Before moving on to our Harmony one price prediction, let's have a look at its current TVL stats. As per the latest Harmony one news, there is currently $795 million locked on its network. Around 40% of this TVL is coming from DeFi Kingdoms alone which makes it the biggest Dapp on the network. Top Ethereum Dapps like Sushiswap and Curve Finance are also live on Harmony smart contract platform.
Harmony One Price Prediction
Harmony one technical analysis clearly shows resistance at the $0.18 region. The price must overcome this resistance soon in order to aim for further upside. At the time of writing, Harmony one price is trading at $0.162 which is 57% below its October 2021 ATH of $0.38. It is important to note here that 200 EMA also lies at $0.18. This makes this level even more critical for any Harmony one price prediction.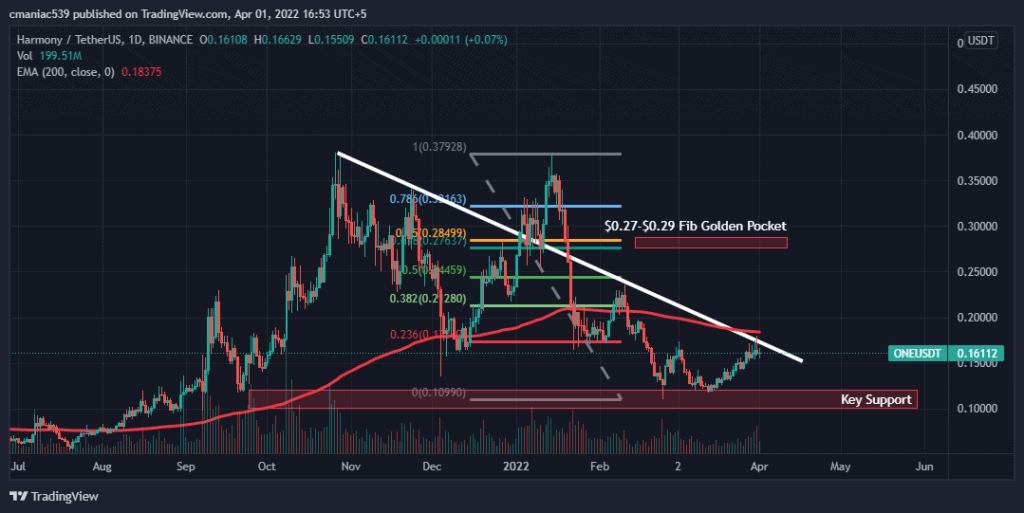 If ONEUSD price breaks above 200 EMA and confirms then a bullish move seems to be probable. In such a scenario, the first conservative target would be around $0.28. This region is critical because of the 0.618 Fib retracement level. This level comes into play by connecting January highs to the February lows. Any break above this region could also make Harmony one price prediction of $0.54 a reality. This level also matches with 1.618 Fib extension level from the same retracement as described earlier.