The Hang Seng index crashed by more than 2%on Wednesday morning as most constituent companies retreated. HK50 also fell as concerns about the soaring Chinese inflation and the ongoing tensions between the United States and China. It dropped to a low of $19,580, which was the lowest point since May 13th.
Hong Kong stocks retreat
The Hang Seng index declined sharply after China published the latest inflation data. According to the statistics agency, inflation roe to 2.7% in July, the highest point in two years as pork prices surged. Producer prices pulled back slightly because of the relatively lower oil and gas prices in China.
The index also declined as tensions between the United State and China rose following last week's trip by Nancy Pelosi. China has continued its drills around Taiwan and there is a likelihood that the situation will worsen in the near term. Besides, the US is said to be considering the Taiwan Policy Act, which will elevate Taiwan to be a major non-Nato ally.
The worst performing stock in the Hang Seng was WuXi Biologics whose shares crashed hy more than 6.9%. It was followd by Techtronic Industries, BYD, ANTA Sports, Alibaba Health Information, and Li Ning. All those shares crashed by more than 5%. Only three Hang Seng constituents were in the green. CLP Holdings shares rose by 1% while CNOOC and Power Assets rose by less than 0.20%. 
Hang Seng index forecast
The four-hour chart shows that the Hang Seng index declined sharply on Wednesday as the bearish trend continued. This sell-off continued when the shares surged to a high of $22,471 in July. It has moved below the 25-day and 50-day moving averages while the MACD has moved below the neutral point.
It has also formed a falling wedge pattern. In price action analysis, this pattern is usually a bullish sign. However, it is not close to its confluence level signaling that the index will continue falling. If this continues, the next key level to watch will be at $18,800.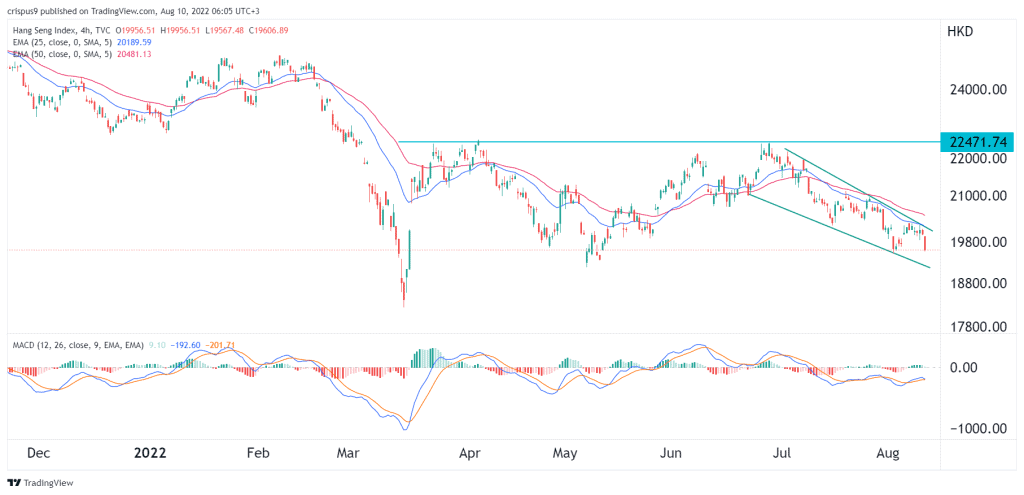 HSI support and resistance levels
InvestingCube's S&R indicator is one of the most accurate signal tools that one can use in trading. Developed a few years ago, it has a success rate of over 85%. The indicator points to more weakness of the Hang Seng, with the support level being at $19,330 and the resistance being at $19,915.