The Hang Seng index posted its most significant daily gains since 16 March to end the day higher by 4.01%. The day's surge also helped the index to close at 21089.40, a 2.18% gain that broke the three-week losing streak.
The reversal of fortunes on the Hang Seng index stems from a drop in overall COVID-19 cases in China and the easing of lockdowns in selected regions of the country. In addition, mass testing in Beijing appears to have identified the flashpoints of any new infections, enabling better control. This scenario enabled Chinese stocks to thrive on the exchange, driving new demand that produced the accompanying surge.
There were also reports from the South China Morning Post, citing unnamed sources, that the Chinese government was planning to pause regulatory clampdowns on the Chinese tech sector amid the slowdown of the country's economy. The biggest winners on the Hang Seng index by this decision were Baidu and Alibaba.
Hang Seng Index Outlook
The 21287.15 resistance appears to be the next target for the Hang Seng index following the huge gains of the day. If this barrier is broken, the 21654.41 resistance comes into the mix as the next viable target. An advance above 21654.41 brings up the 22756.22 resistance, a potential neckline for the evolving double bottom on the daily chart.
Only when this neckline is broken can the bulls aim to complete the measured move at 24959.83 (20 January and 11 February highs). To attain this completion, this measured move must uncap the resistance barriers at 23257.04 (24 February high) and 24292.07 (9 December 2021 and 25 January 2022 highs).
On the flip side, rejection at the 21287.15 or 21654.41 resistance levels will create room for a march towards 20322.56 (28 April high in role reversal). 19718.00 comes up next if there is a further decline before 18698.53 and 18290.74 enter the mix as additional targets to the south.
Hang Seng: Daily Chart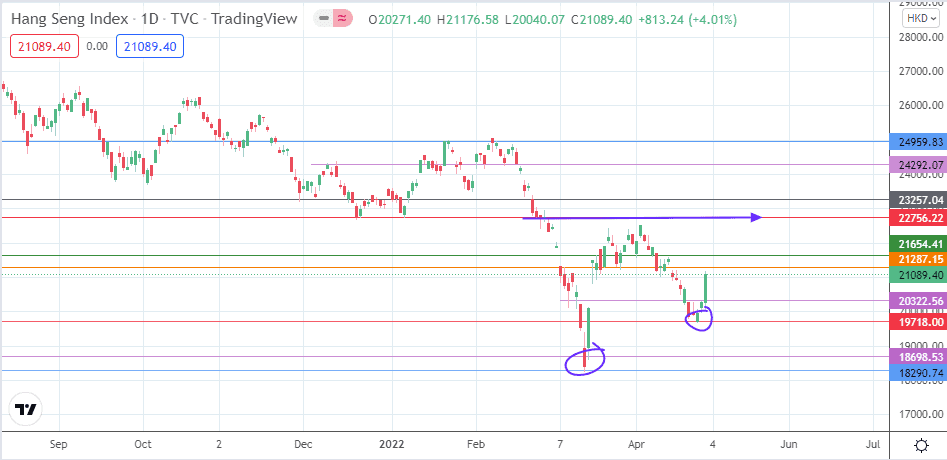 Follow Eno on Twitter.