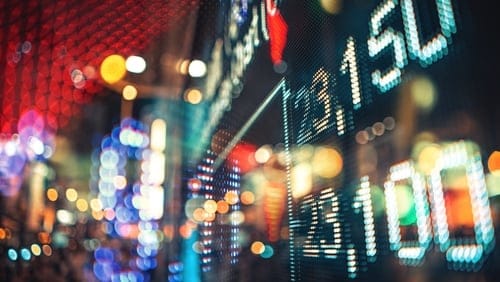 Indices, Market Brief
Opening Bell: Hang Seng, FTSE 100 Retreats as S&P 500, DAX Index Tilt Higher
Asia-Pacific equities are falling as tensions between the United States and China escalated overnight. In Hong Kong, the Hang Seng index is down by 0.20% while in mainland China, the Shanghai composite is down by 0.95%. In Japan, the Nikkei 225 declined by 0.50%.
In a statement overnight, the Trump administration said that it would bar American investors from investing in China's military-backed companies. The new plan will start in January, a few days before the president is scheduled to hand over to Joe Biden.
Among the companies that will be affected are China Telecom and China Mobile. Now, analysts will be watching at whether China will choose to retaliate or wait for the new administration.
The Hang Seng is also falling ahead of the official release of Hong Kong's third-quarter GDP estimates. Analysts expect the data to show that the economy expanded by just 3.0% in the quarter leading to an annualised contraction of 3.4%. The top-performers in the Hang Seng index are Xiaomi, Tencent, and HKEX while the top laggards are China Unicom, China Mobile, and CNOOC.
Elsewhere, in Europe, the DAX index futures are up by 0.30% while in the UK, the FTSE 100 has dropped by more than 1%. While there will be no major earnings data today, investors will be watching out for the second GDP estimates from the EU.
Similarly, in the United States, futures tied to the Dow Jones, Nasdaq 100, and S&P 500 are tilted upwards although the overall performance is muted. Like in Europe, US stocks are looking for direction as vaccine and US election fears remain.
The economic calendar will have no major events today. The most important will be the Turkish retail sales, Switzerland and US PPI numbers, and a statement by Governor Andrew Bailey.
Hang Seng technical analysis
This week, the Hang Seng index rallied to a high of h$26,293, which was the highest it has been since July 7. In the past few days, it has weakened slightly and is now trading at h$26,075, which is along the 61.8% Fibonacci retracement level on the daily chart.
The index also seems to be forming the island reversal pattern, that is shown in black. Therefore, while the overall bullish trend remains, it may go through some weakness in the next few days as bears target the 50% retracement at h$25,107.
Don't miss a beat! Follow us on Telegram and Twitter.
Hang Seng technical chart
More content