The GSK share price is up for the second straight day as the market warms up to the news of the company's foray into renewable energy.
A press release that hit the newswires yesterday announced that GSK would invest £50m in carbon reduction and renewable energy. Its carbon reduction program will involve reducing greenhouse gas emissions from rescue metered-dose inhalers, which typically account for nearly half of the company's carbon footprint.
The company says it intends to achieve a net-zero target impact on the climate by 2030.
GSK Share Price Outlook
The GSK share price daily candle is challenging resistance at 1415.0. If it breaks that level, 1450.0 becomes the new target. Above this level, additional targets could be found at 1470.4 (26 August and 3 September lows), and 1497.2. These levels must give way before the price challenges the 2021 highs at 1528.8.
On the other hand, rejection and pullback from 1415.0 could allow the bears to continue pushing the correction towards 1382.6. If this support, which has held since July 2021 gives way, we could see the price testing 1359.0 (13 January low/1 June high) before 1323.2 comes into the picture. 
GSK Share Price: Daily Chart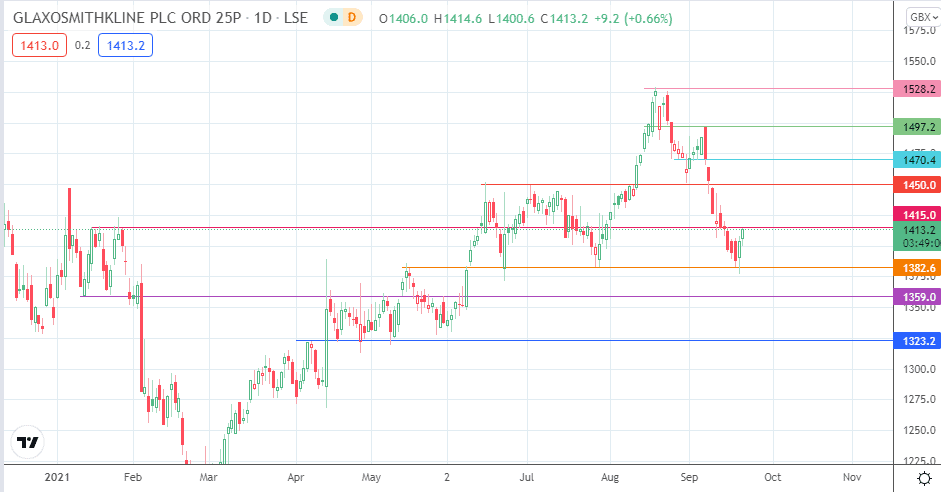 Follow Eno on Twitter.