Gold prices are heading higher on a risk-off Friday, triggered by a flight to safety on news of the emergence of a new variant of the COVID-19 virus. The strain is said to have originated from South Africa, but reports indicate that the variant has shown up in Belgium, Israel and Hong Kong.
This has triggered some travel bans and fears of potential new lockdowns and more vast travel restrictions. Gold prices rose 0.95% on Friday, but the intraday spike was limited by the market sentiment around a hawkish Fed view. The content of the FOMC minutes released on Wednesday and commentary from key Fed members are adding some USD strength which has limited bullish gold price action.
Gold Price Outlook
The intraday surge in gold prices took off from the support zone and the ascending trendline connecting recent price lows. This move has hit resistance at the 1815.20 price mark. If the bulls overcome this barrier. The resistance zone at 1828/1840 comes into the picture. 1860.77 remains a resistance of note, as does 1881.68, where recent highs approached.
On the flip side, a retreat below the support zone/ascending trendline triggers a price drop which targets pivots at 1763.30 and 1741.01. 1719.13 and 1699.43 are also potential downside targets.
XAU/USD: Daily Chart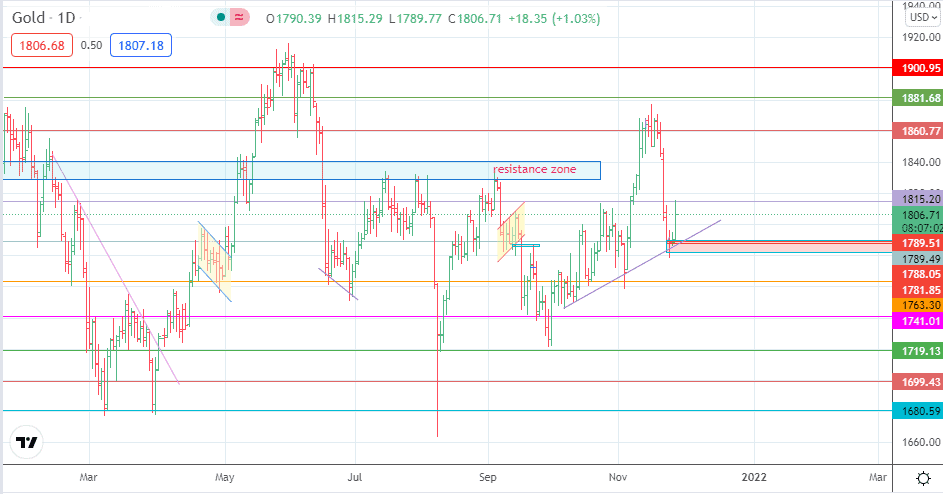 Follow Eno on Twitter.