The Gevo stock price has bounced back as investors pile into alternative energy sources in the past few months. The shares are trading at $4.28, about 50% above the lowest level this year. However, the shares are still about 72% below the highest level in 2021, bringing its total market capitalization to $883 million.
Gevo is a small-cap company that provides renewable solutions for multiple industries like airlines and other companies. This is an important part now that the price of jet fuel is soaring. In line with this, Gevo has announced several partnerships with companies like Air Total, Delta Air Lines, and Scandinavian Airlines, among others.
Still, the biggest challenge for Gevo is that its business is still generating substantial losses. In 2017, it made a total revenue of over $27 million and a loss of $24.7 million. In 2021, its revenue was just $500k, and its total loss was more than $59.5 million. This performance is mainly because the company is still perfecting its business, but there are concerns about when it will become profitable.
Another issue is that Gevo will continue diluting its investors. As shown below, the number of outstanding shares have risen from 2.3 million in 2014 to over 201 million today. Selling stock dilutes shareholders by adding the number of shares.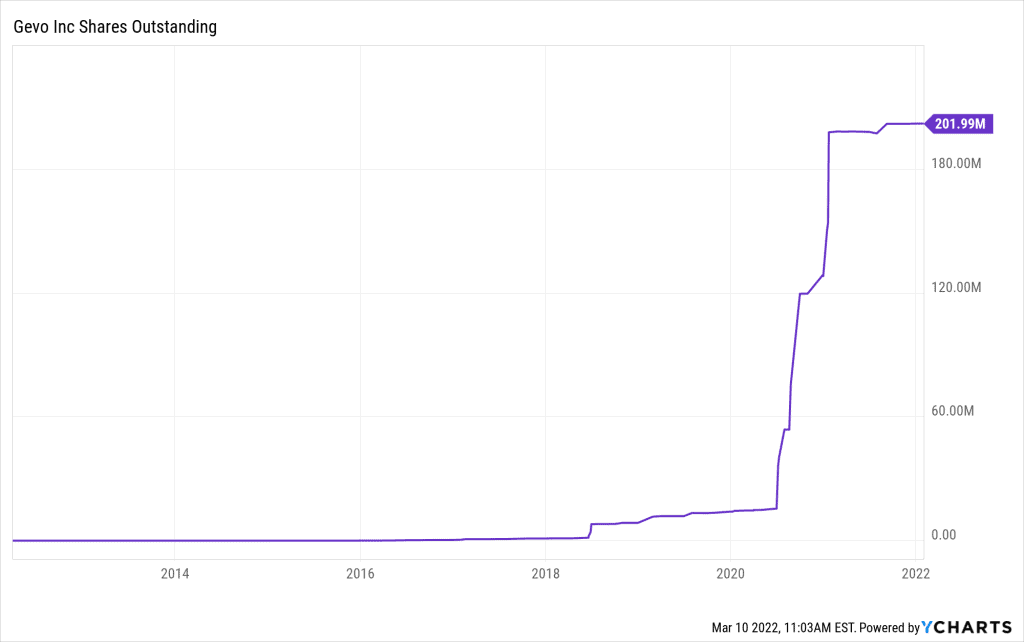 Ideally, selling stock is a thing that many companies do. For example, in 2021, AMC's management sold stock as they took advantage of the soaring stock price. This will be difficult for Gevo since its stock has crashed.
Gevo stock price forecast
The daily chart shows that the Gevo stock price found strong support at about $2.80. Since then, the shares have jumped by over 50%. At the same time, it remains between the 50-day and 10-day moving averages while the Relative Strength Index (RSI) has risen. The share price is slightly above the 78.6% Fibonacci retracement level. 
Therefore, I believe that these gains are not sustainable and that the stock will resume the downward trend. If this happens, the next key support level to watch will be at $2.80. This view will be invalidated if the shares move above $5.