The GBP/USD fell heavily on Tuesday, hitting 2-month lows as sellers drove prices below 1.3600. This slide comes as surging US bond yields and risk-off sentiment took control of the financial markets.
Also adding to broad-based USD strength is the expectations of an early tightening of US monetary policy, ahead of the testimony by the US Fed Chairman Jerome Powell. Powell had noted in his comments following the FOMC decision that the apex bank expected inflation to dominate for quite some time before dissipating, setting the stage for a potential earlier-than-expected tightening in rates. The bank will also start winding down the pandemic-era stimulus in November.
Locally, the truck driver shortage is causing an intense fuel shortage, forcing BP to close stations and supermarket chain Tesco to close some of its doors. These factors have set the stage for massive selling on the Pound.
GBP/USD Technical Outlook
The GBP/USD has broken below the 1.36117 support and appears headed for the 1.35134 downside target. If the price decline continues, the 11 January low at 1.34497 and the 1.33951 support levels could become additional price targets to the south.
On the flip side, a bounce on the 1.35134 could serve as a temporary halt point, with the likelihood of a bounce targeting 1.36117 initially. A further extension to the north brings in 1.36771 and 1.37463 into the picture. However, the bearish sentiment means that these areas could serve as points at which selling could resume.
GBP/USD Daily Chart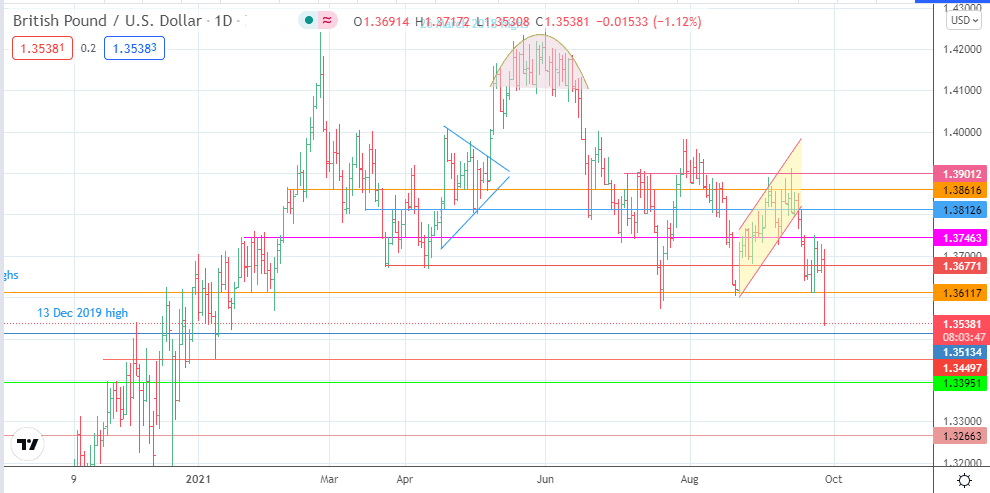 Follow Eno on Twitter.