The FTX token price is at a must-hold level, which should give way if Bitcoin closes below the 200-Day Moving Average tonight.
The native token of the FTX crypto-derivatives exchange is on a knife-edge on Tuesday, as traders nervously watch to see if BTC holds above the 200-DMA at $46,835 (trading at $46,800). If the leading crypto closes below the 200-Day for the first time since October, it will undoubtedly attract selling. And if BTC heads lower, the rest of the market should follow suit.
The crypto market is suffering an extended bout of weakness on fears the recent sky-high inflation data will force the Fed to reduce asset purchases at a faster pace. As a result, the FTX token price has been in an extended bear market for three months. In that time, the crypto's market cap has dropped from $9.7b to approximately $5.25, ranking it the 30th most valuable cryptocurrency. But despite the considerable discount, more downside may be on the cards if tomorrow FOMC delivers a hawkish result. In that event, BTC could drag the FTX token price much lower.
FTT Price Forecast
The daily chart shows that FTX Tokenb (FTT) has broken the support (now resistance) of the 200-DMA at $46.40. However, the price is holding the $36.74 horizontal support. Nonetheless, as long as the price remains below the 200-DMA, the outlook is negative.
If the token posts a daily close below $36.74, I expect selling to accelerate, targeting the $25.00 area. However, as mentioned, anything could happen in the next 24-hours, and therefore, trading FTT is a crapshoot until Bitcoin's close is confirmed. Furthermore, tomorrows Central Bank meeting could provide fireworks in either direction. On that basis, whilst I am bearish, I remain open-minded about FTT's immediate prospects.
FTX Token Price Chart (daily)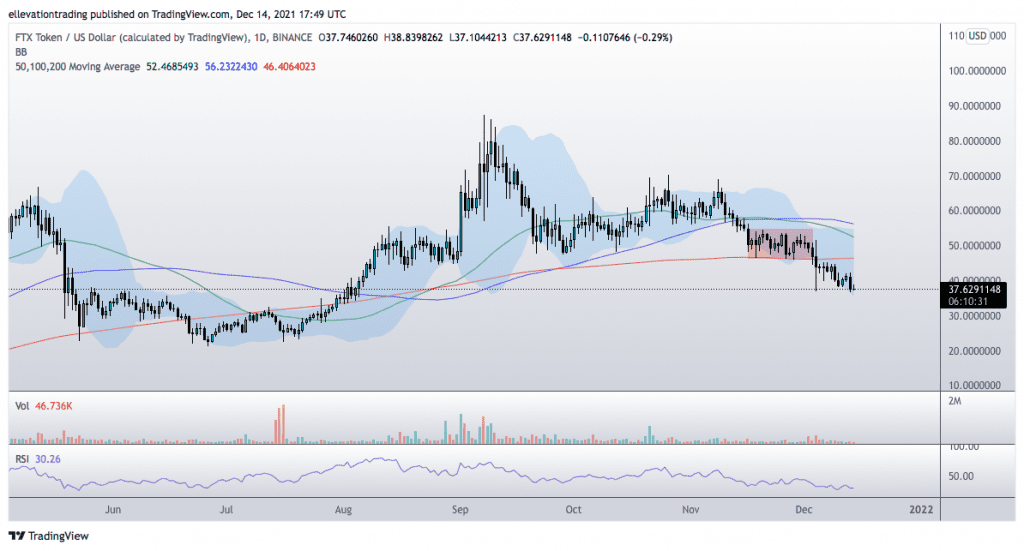 For more market insights, follow Elliott on Twitter.