UK stocks have been relatively calm in the past few days as investors wait for the latest UK economic data and the interest rate decision by the BoE and the Fed. The blue-chip FTSE 100 index was trading at £7,500, which is a few points below this year's high of £7,636.
UK stocks have outperformed in 2022
While the UK is one of the worst-performing G20 economies this year, the FTSE 100 has outperformed its global peers. The footsie has risen by 0.50% this year while its peers like the Dow Jones, Hang Seng, and the DAX have all crashed by more than 10%. Other blue-chip indices like the Shanghai, FTSE MIB, and Stoxx 50 have also dropped by double-digits.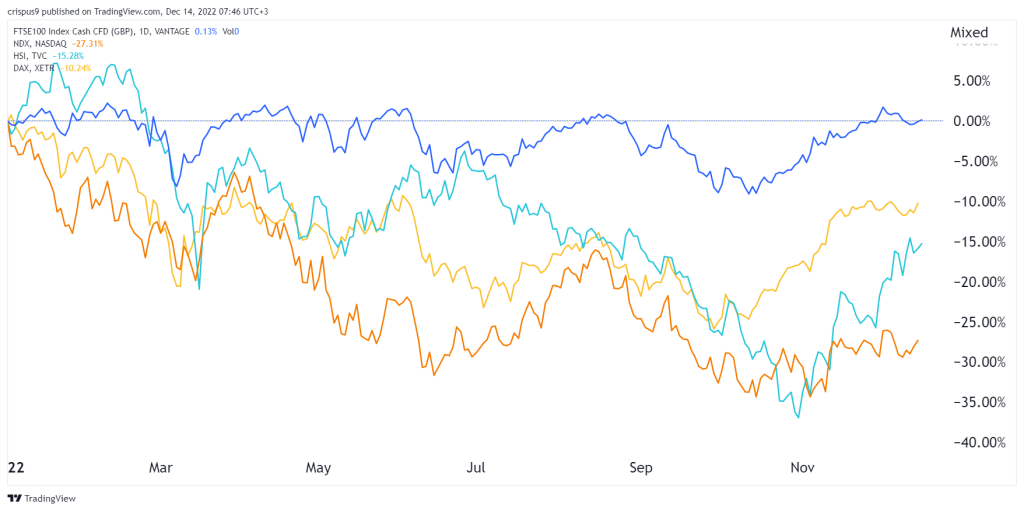 The FTSE 100 index has done well despite numerous challenges for the UK economy. It is facing double-digit inflation while the country has had three prime ministers this year. Further, the government deficit has continued widening in the past few months.
This outperformance is likely because of the important role of energy and mining constituents in the index. Firms like Shell, BP, Glencore, and Rio Tinto have a strong weighting on the index. This is unlike indices like the Nasdaq 100 and S&P 500 that are weighted towards tech companies like Microsoft and Tesla.
Bank of England's decision
The FTSE 100 index has numerous catalysts scheduled for this week. On Monday, the UK published encouraging October GDP data. The numbers revealed that the economy grew modestly in October as it moved from Truss administration.
On Tuesday, the UK released the latest jobs numbers that showed that the unemployment rate rose to 3.7% while wage growth rose. The next important data will be the latest UK inflation numbers scheduled for Wednesday. Economists expect the data to reveal that the country's inflation dropped slightly in November.
The most important FTSE 100 catalyst will be the Fed and BoE decisions. Economists expect the two banks to downshift their rate hikes to 0.50%.
FTSE 100 forecast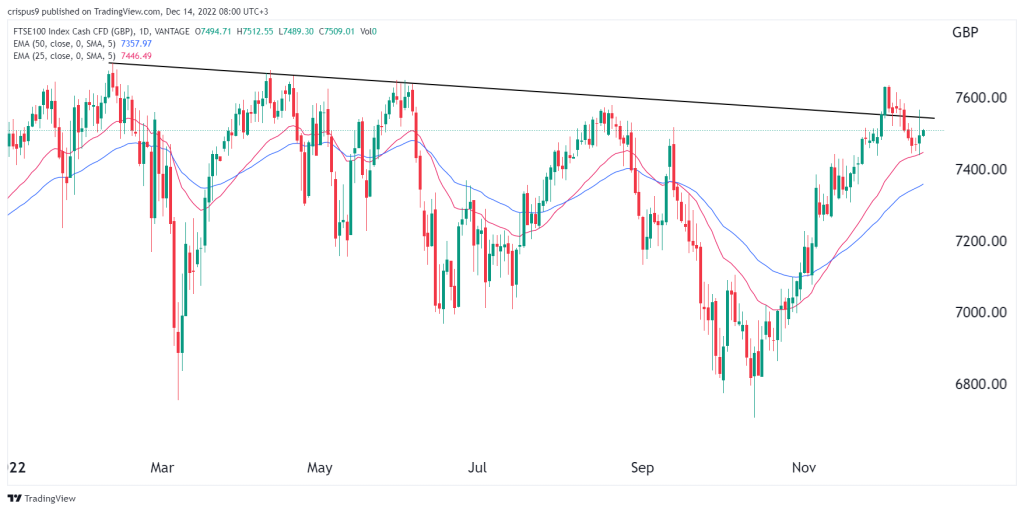 The daily chart shows that the FTSE 100 index has been in a bullish trend since November. While it has pulled back modestly recently, it is still being supported by the 25-day and 50-day moving averages. It also wants to retest the descending trendline shown in black.
Therefore, I suspect that the index will continue rising after the Fed and BoE decisions as long as it is above the two moving averages. A drop below the 50-day MA level at £7,360 will invalidate the bullish view.