A bearish pennant is evolving on the 4-hour chart
The 1400 UTC candle on Tuesday showed a steep intraday selloff.
Filecoin price prediction points towards a $50 price IF the bearish pennant is validated.
The Filecoin price prediction is for the pair to assume further downside bias, given the pattern on the 4-hour chart and the intraday price action.
Filecoin has not benefited from the recent crypto rally as it struggles with low volatility due to diminished investor interest. Following recent swing highs seen on 8/9 October 2021, Filecoin has been posting progressively lower highs.
A microscopic look at the price action showed a very bearish hourly candle at 1500 UTC. The price pattern on the 4-hour chart shows an evolving bearish pennant, which will have bearish consequences for the pair if the pattern evolves as expected. The steepness of the upper border of the pennant indicates building bearish pressure, which the bulls may find hard to defend against.
Filecoin Price Prediction
The 4-hour chart of the FIL/USDT pair shows that the strong intraday downside move tested the lower edge of the evolving bearish pennant. A breakdown of this border and the 61.2813 support completes the pattern. The measured move from the pattern is expected to attract some demand at 54.9968 (28/29 September lows), making this point the next downside target. Below this level, the prior low of 26 September at 50.566 forms the next downside target.
On the flip side, a break of the 65.7947 resistance allows the FIL/USDT pair to aim for 70.1552. This move also invalidates the bearish pennant. However, a bullish reversal of the Filecoin price only comes if the 81.9161 price barrier gives way. 
Filecoin Price Action: 4-Hour Chart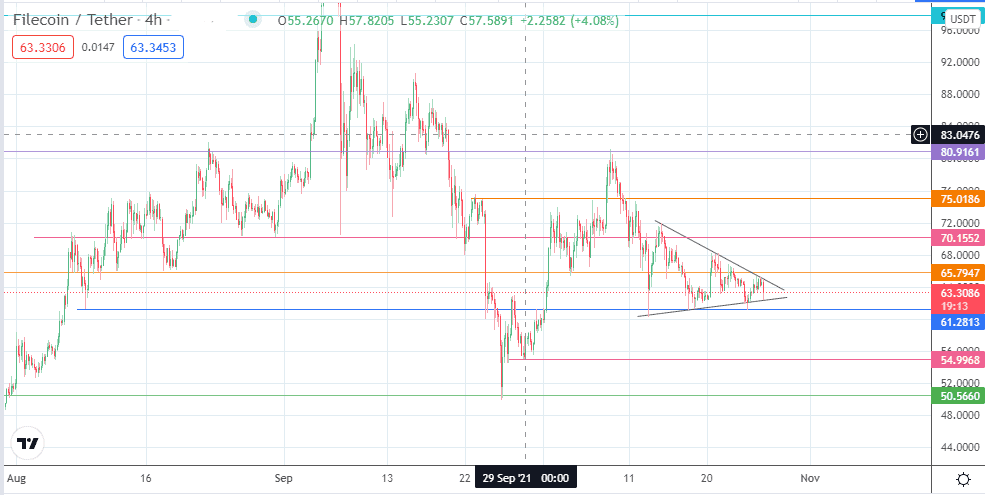 Follow Eno on Twitter.