Bullish developments have sent the Filecoin price skyrocketing above $100 for the first time since May. But after gaining 200%, is the rally sustainable? The data storage coin has been on a tear over the weekend, jumping from $76.00 to $123.20 and breaking into the crypto top 20 list.
Filecoin (FIL/USD) has recently announced several high profile collaborations, which have broadened its appeal. Most notably, on the 20th of August, Filecoin announced it is partnering with Polygon (MATIC) to increase interoperability between the two networks. Furthermore, a number of projects have chosen Filecoin solutions for storing Non-Fungible Tokens (NFT's).
This has investors betting that Filecoin could be next in line to benefit from the booming NFT market. As a result, since Friday, Filecoin (FIL/USD) has added almost $5 billion to its value. The current market cap of around $6 billion ranks the coin as the 18th-largest cryptocurrency, ahead of 19th Placed Polygon (MATIC).
FIL/USD Price Forecast
Looking at the daily chart, we see that the Filecoin price of $116 runs into overhead resistance between $117 and $125.00. This was evident yesterday when FIL traded as high as $123.20 before settling lower at $113.60. If Filecoin manages to push through this band of resistance, the next target for the bulls is $170. However, the rally is starting to look stretched on some metrics. The Relative Strength Index (RSI) shows 82.07, which signals the rally is overdone in the short term.
Below the market, support is seen at the former resistance between $95.00 and $100, which capped the price in June. Below that, last week's high, around $83.00, should follow.
Filecoin Price Chart (Daily)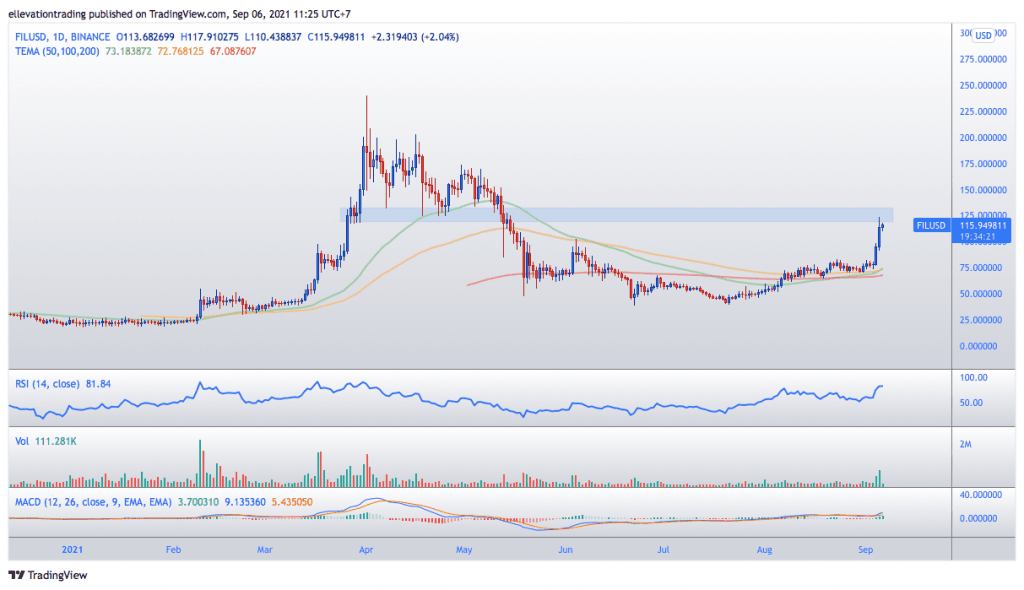 For more market insights, follow Elliott on Twitter.