The Fantom price rose sharply during the weekend as investors remained optimistic about its network. FTM, its native token, is trading at $2.36%, which is the highest it has been since January 26th. Unfortunately, this price was also about 35% above the lowest level in 2022.
What is Fantom?
Fantom is a fast-growing blockchain project that is seeking to disrupt the layer 1 smart contract industry. An Ethereum-killer that provides developers with a platform to build decentralized applications (DAPPs) such as those in the DeFi and non-fungible token (NFT) industries.
Fantom is managed by the Fantom Foundation, headquartered in the Cayman Islands. According to Crunchbase, the foundation has raised $40 million from investors.
Fantom aims to solve some of the challenges that Ethereum has in several ways. It is a proof-of-stake network, meaning that new coins are developed using consensus among delegators. Also, the network uses a technology known as a Directed Acyclic Graph (DAG) to solve the challenge of scalability.
As a result, while Ethereum handles less than 20 transactions per second, Fantom is able to handle about 10,000 tps, making it one of the fastest platforms.
FTM is the native token for the Fantom blockchain, just like Ether is the token for Ethereum's network. Users can even stake it to earn returns.
Latest Fantom news
There have been several important news that has affected the Fantom price in the past few weeks. First, Fantom has continued gaining more market share in the DeFi industry. Today, it is the 5th biggest DeFi platform in the world.
Second, recently, Nexo decided to add support for FTM. This was a notable thing since it means that people will be able to earn returns by buying FTM on Nexo's platform.
Further, Fantom followed Tezos and Crypto.com to Formula 1, the pinnacle of motorsports. Alpha Tauri will now promote it in the upcoming season.
Fantom ecosystem
The Fantom price has jumped sharply in the past few months because more developers have moved to embrace the network. According to DeFi Llama, there are now 149 DeFi projects built in its ecosystem. These apps have a combined total value locked of more than $9.3 billion.
Some of the biggest DeFi platforms built using Fantom are MultiChain, SpookySwap, Yearn Finance, and Geist Finance, among others. The figure below shows the top DeFi apps in the Fantom ecosystem.
In addition, Fantom has a growing presence in the non-fungible projects, with some of the leading projects being Artion, ZooCoin, and PaintSwap, among others.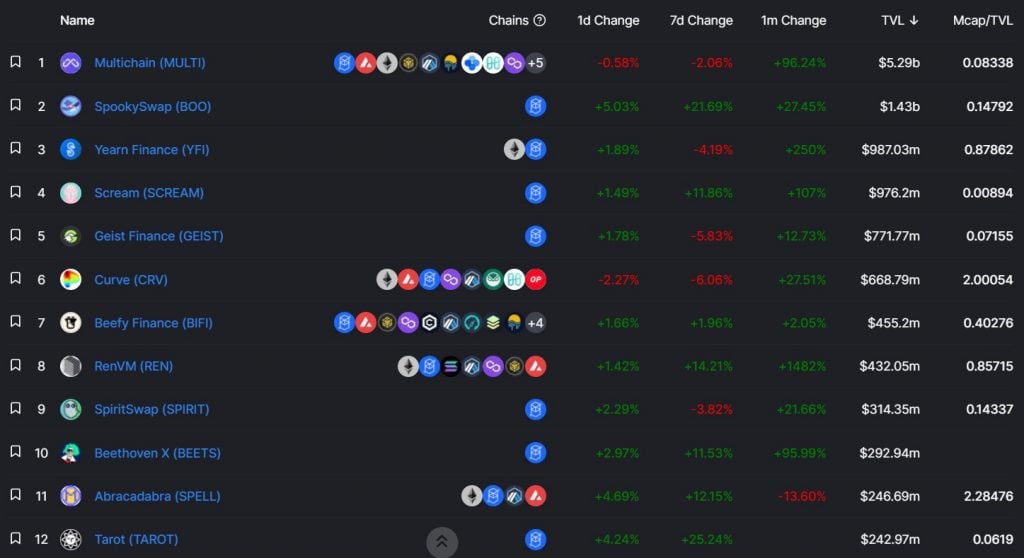 Fantom price history
The FTM price has had spectacular growth in the past few years. According to Binance, Fantom started trading at $0.02 in October 2018. Since then, the coin's price has jumped by more than 68,000%. As a result, it has outperformed Bitcoin and Ethereum, which have risen by 1,300% and 3,225%, respectively.
Still, as you can see below, its price was moving horizontally for most of this time. The bullish momentum started in January 2021 and continued as investors cheered the growth of its ecosystem.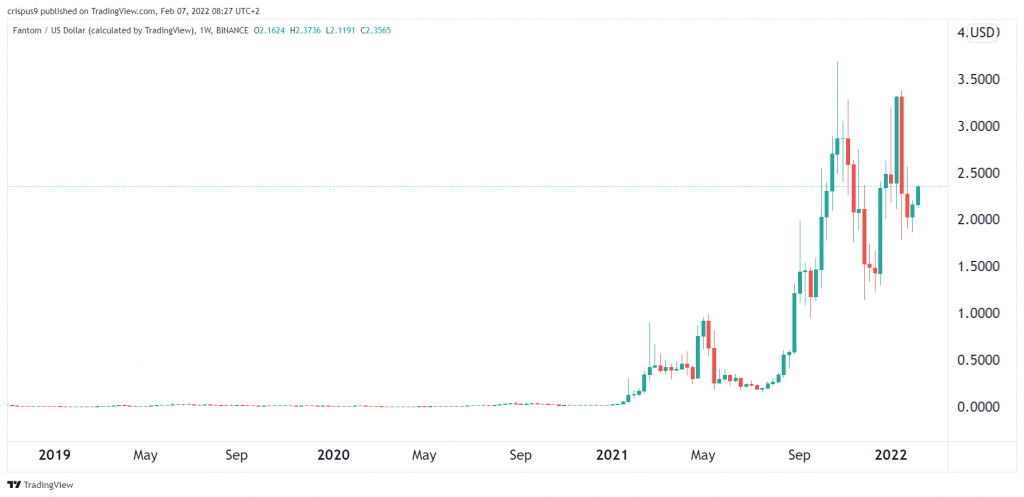 Is Fantom a good investment?
A common question is whether Fantom is a good investment or buy by investors. There are reasons to believe that it is a good investment to buy from a fundamental perspective.
First, Fantom has become a go-to platform for blockchain developers because of its fast speed and high efficiency. Therefore, this ecosystem growth will likely push more investors to the network.
Second, recent data suggests that the number of transactions in the network has started rebounding, as you can see below. That is a sign that people are using projects built using its technology.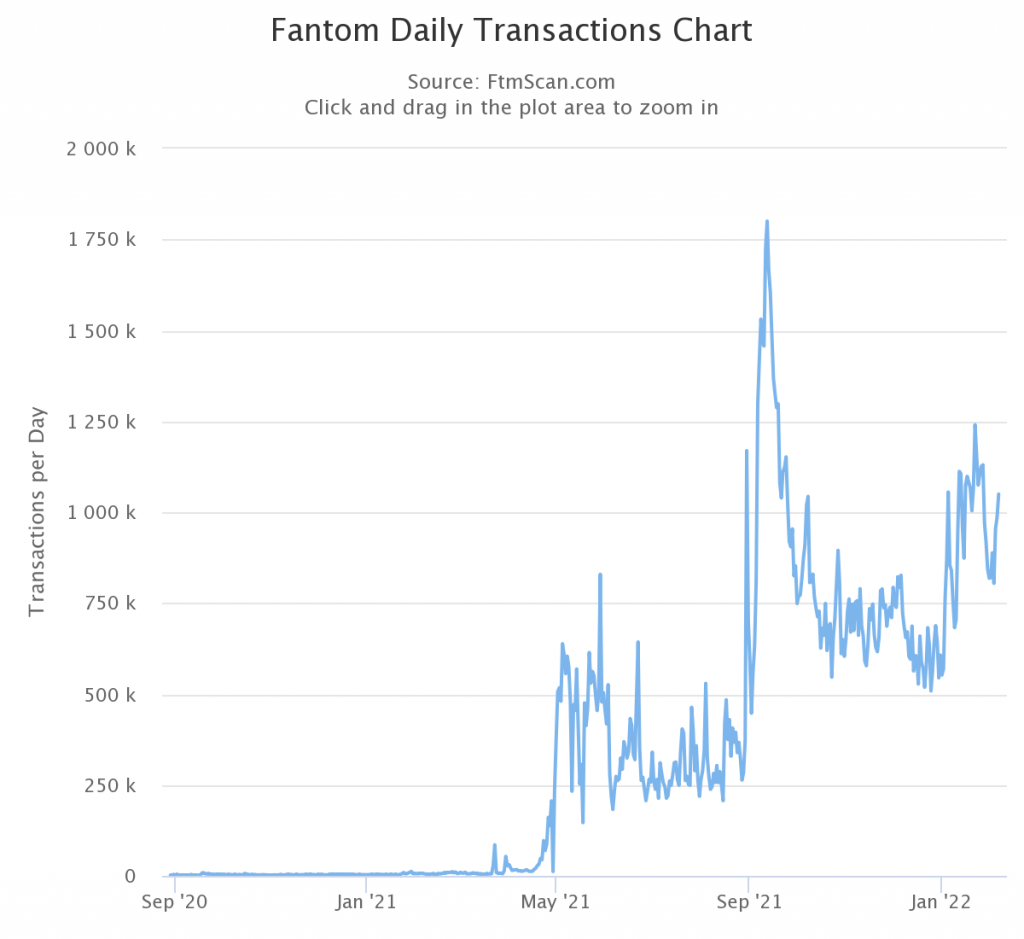 Third, it is a proof-of-stake technology that has gained market share in the industry. It has even passed some of the best-known projects like Tron, Solana, and Polygon.
However, while the Fantom price prediction will likely keep rising, several risks could hinder its growth. First, there is a risk that the DeFi and NFT industries will struggle if their bubble bursts. Second, the rising competition in the industry will affect its growth.
Fantom Price prediction 2022
To conduct the FTM price prediction for 2022, I will conduct a technical analysis using the daily chart. The FTM price is attempting to bounce back after it crashed by about 47% from its highest level in 2022.
Along the way, Fantom has risen slightly above the 38.2% Fibonacci retracement level and the 50-day and 200-day moving averages. In theory, these should be bullish moves for the coin.
However, a closer look shows that the coin formed a double-top pattern whose chin was $1.1475. In price action analysis, a double-top pattern is usually a bearish sign.
Therefore, the Fantom price outlook for 2022 is bearish, with the immediate near-term target being at $1.1475. Any drop below that support will validate the bearish view and push the coin below $. The key support and resistance levels for 2022 are $1.1475 and $3.40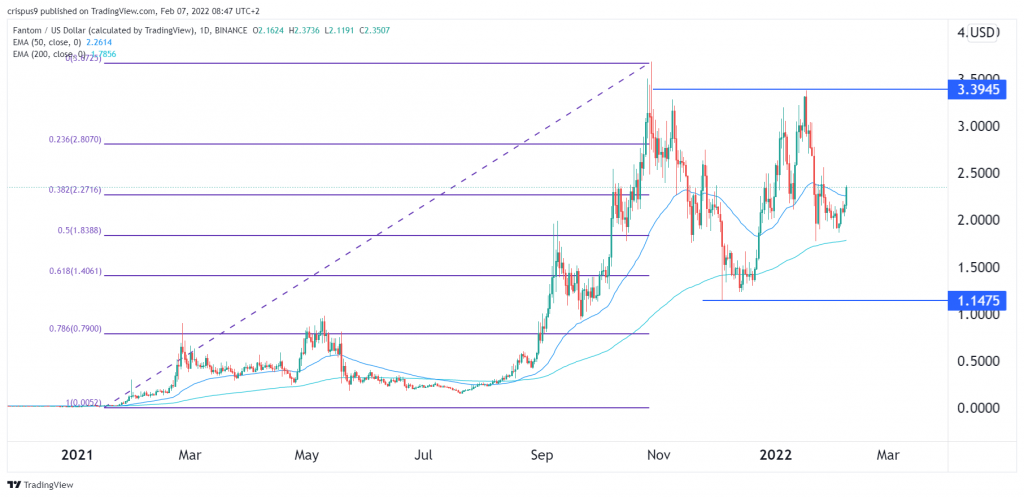 FTM price forecast 2025
What is the outlook for Fantom in 2025? To answer this question, we will use Plan B's stock-to-flow model that attempts to estimate the future direction of Bitcoin. We will also incorporate the Andrews Pitchfork tool to predict the key scenarios to watch.
As you can see below, the model estimates that the BTC price will be above $100,000 by the end of 2025. This means that the BTC price is estimated to climb by about 2.38x by 2025. If FTM rises by the same amount, we can estimate that it will be at about $5.71. However, the real amount could be higher since Fantom has more use cases and a faster growth rate than BTC.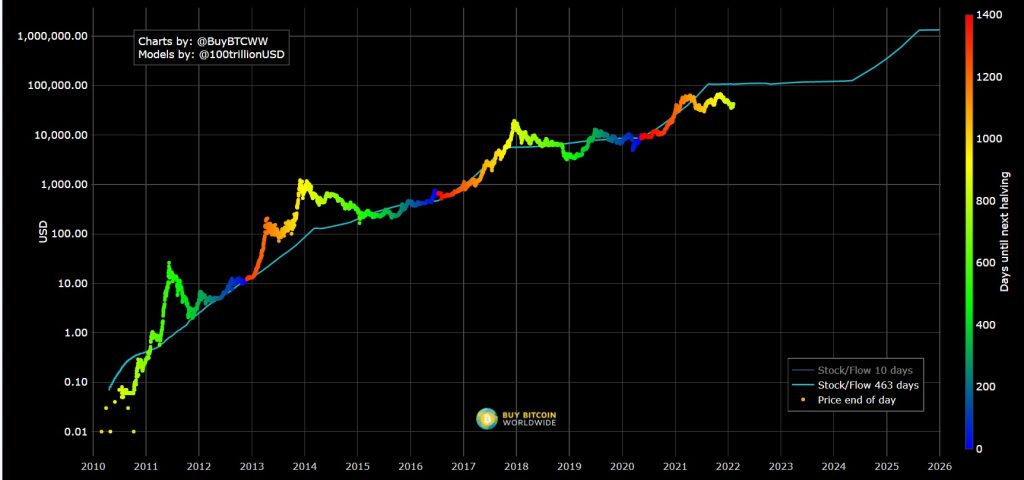 Using the Andrews Pitchfork tool, we can identify the potential support and resistance levels for the Fantom price by 2025. The chart below identifies the key support levels at $6 and $5.46. The top resistance levels will be at $6.80 and $7.41.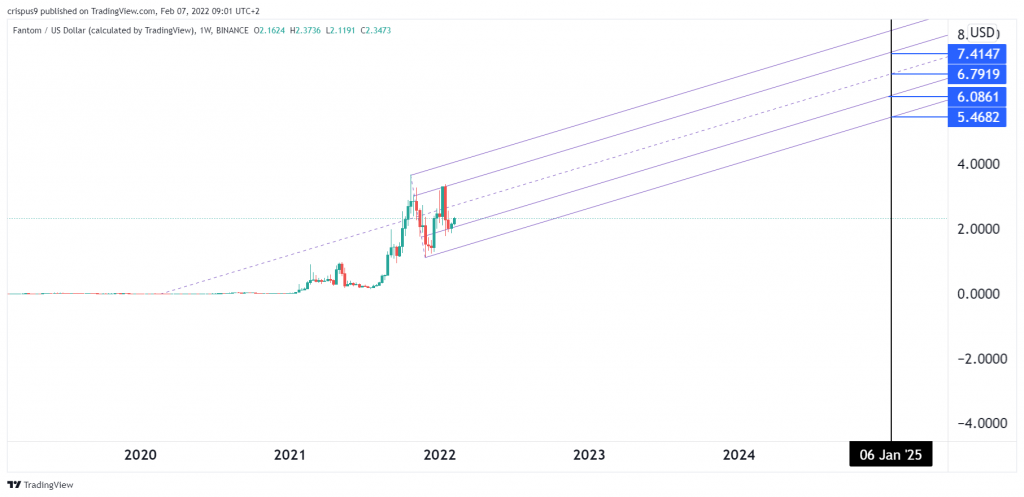 Summary
Fantom is a fast-growing blockchain platform that has wider use cases. While it is a young project, it has been used to build some of the best-known DAPPs today. This article estimated the Fantom price prediction and assessed whether FTM is a good investment. While the future outlook is stable, it will continue facing risks by 2025.