The Fantom price reversed its decline and bounced over 40% after retreating to essential support. The question is, what comes next? Will Fantom (FTM) squeeze even higher, or will the bounce succumb to gravity and force the price to a second test of the support?
Fantom has been on a fantastic run in 2021. Since the start of the year, its FTM coin is up around 7,700%. Which in itself is a remarkable feat. However, if we zoom out, we see that at last week's high, the Fantom price had increased by 113,000% since February 2020. This creates a strong argument for both the bulls and the bears. The bulls will indeed point out the past performance as a sign that Fantom has a bright future. Whilst the bears will say, the FTM price is ripe for a pullback. And to be fair, they both have a valid point.
The hype surrounding Fantom appears to be justified. The directed acrylic graph (DAG) smart contract layer-one platform is attracting interest. At the end of August, Fantom announced a 340 million FTM (around $440 at the time of writing) reward programme to incentivise developers to build on the platform. The project was already gathering pace ahead of the announcement. Over the last month, the platform has seen an increasing deployment of DeFi projects. However, this incentive could be the catalyst for its ecosystem to expand even more. Subsequently, this should be a good thing for the price of FTM.
FTM Coin Price Forecast
The daily chart shows a significant trend line is visible, below the price. The trend, linking the former all-time highs from February and May, is currently at $1.15 and the immediate support. After setting the $1.99 ATH, the Fantom price tracked back to the trend line. So far, the trend has held up, and FTM is currently stable at $1.30.
As long as the price remains above the trend, the outlook is positive and suggests FTM can advance to last week's record high and potentially higher still. However, if FTM drops below the trend, the downside looks likely. In that event, the 50-day moving average at $0.85, which aligns with the former ATH's, should offer good support. Below that, the 100-day at $0.63 provides additional cover.
However, for now, the bulls remain in control. And that will remain the case above $1.15. therefore, the optimistic price prediction becomes invalid below the trend at $1.15.
Fantom Price Chart (Daily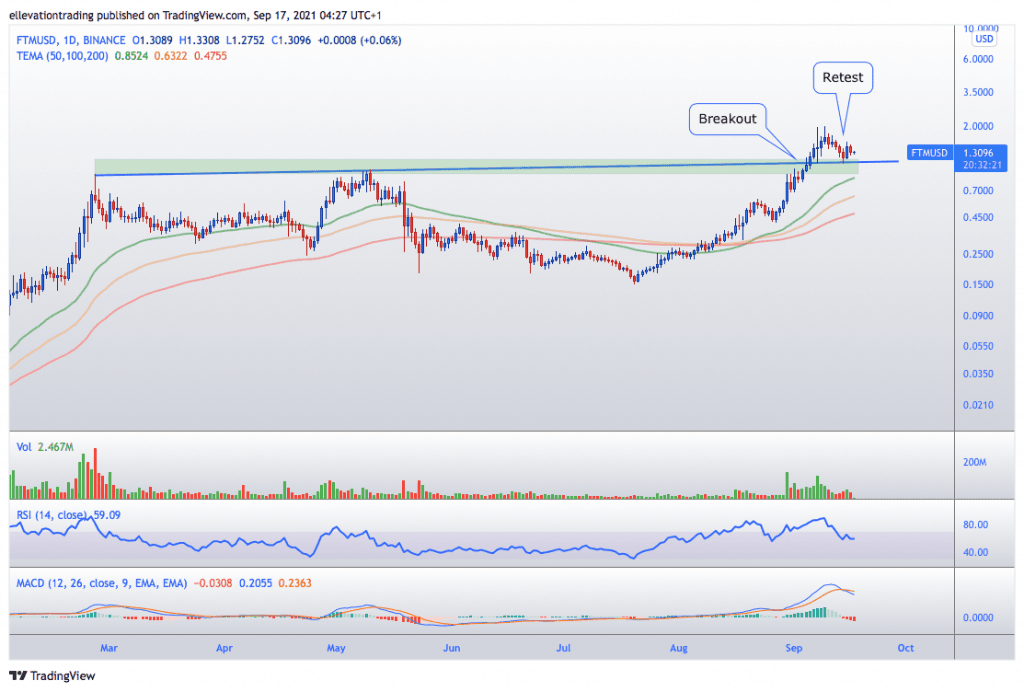 For more market insights, follow Elliott on Twitter.