Facebook sees increased usage of its apps in Q3 2021.
Facebook to increase share buyback to $50 billion.
Company issues less-than-optimistic outlook for Q4 2021 sales.
The Facebook share price is set for a higher open as its earnings report showed a 2% increase in user growth of its apps. Data showed that active users of its family of apps (WhatsApp, Instagram, Facebook) grew to 2.81 billion, more than the 2.77 billion that analysts had predicted. However, the earnings side of the report was less than rosy, as the company reported Q3 2021 revenues of $29billion (versus the consensus of $29.5 billion).
Facebook benefitted immensely from the pandemic lockdowns of 2020 and 2021, as people used its apps to keep in touch with their social circle. Its social media advertising engine also saw an increase in patronage. However, a software update by Apple (which the company had warned about) has impacted the company's ability to track user behaviour for ad serving. Facebook is also predicting that it would earn less in the 4th quarter: a maximum of $34 billion versus a consensus of $34.8 billion. FB also promises a share buyback of $50 billion.
Despite the less-than-optimistic outlook, the Facebook share price rose in after-hours trading and is set for a higher open this Tuesday. The stock is up 0.51% in premarket trading.
Facebook Share Price Outlook
The Facebook share price tested resistance at 329.32 with yesterday's close. The price needs to maintain a closing penetration above this level following the premarket trade price at 332.00 for the break óf this area to be confirmed. This scenario could allow the bulls to close the bearish gap of 22 October and target the 339.29 barrier. If the bulls uncap this resistance, 359.07 becomes a new target to the north. 350.00 may be a pitstop of note (6 July/20 September lows).
On the other hand, a close below 329.32 keeps the bulls under pressure. This action also opens the pathway for 315.83 to become a new target. Below this area, 304.69 and 296.52 are additional targets to the south. 
FB: Daily Chart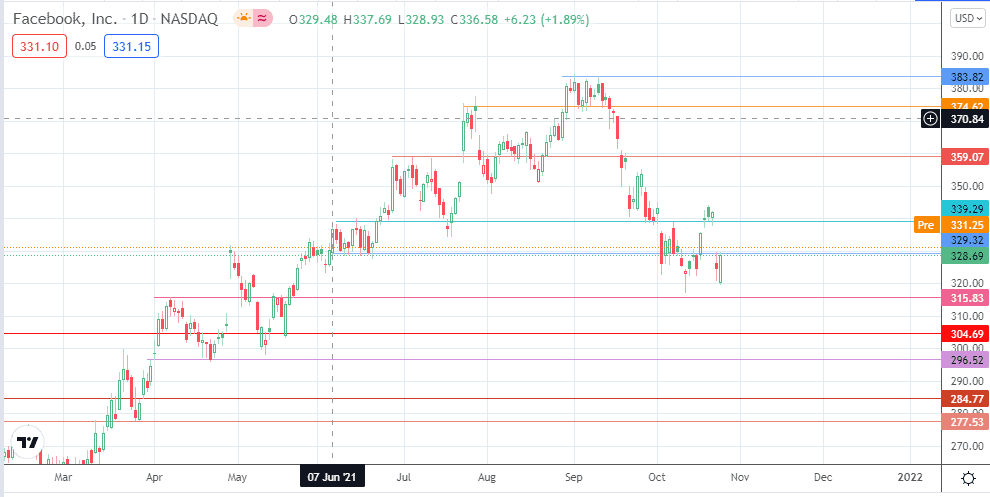 Follow Eno on Twitter.